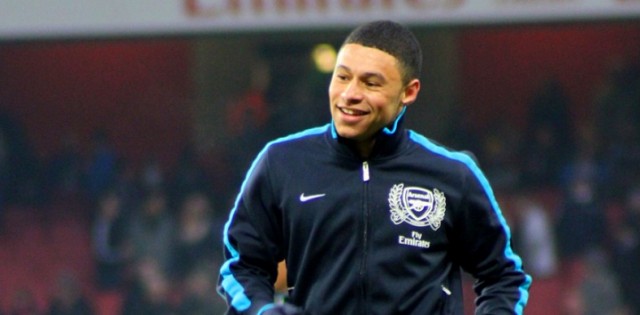 Arsenal and Barcelona face-off in their 1st Leg Round of 16 Champions League match at the Emirates. Arsenal face the daunting task of knocking out the holders, and have failed to do so three times since 2006.
Barcelona defeated Arsenal in the 2006 Champions League Final in heartbreaking fashion. The Blaugrana subsequently knocked the Gunners out of the competition in 2010 and 2011, although Arsenal recorded their only win against the Spanish side in the 1st leg of the 2011 matchup.
Arsene Wenger and his squad are entirely aware of the challenge they face. Wenger has put on emphasis on the need for his squad to defend as a team and not concede important away goals, whilst Olivier Giroud has drawn confidence from Arsenal's first performance against Bayern Munich in the Champions League group stage this season.
Arsenal will be without Brazilian center back Gabriel, who is still nursing a hamstring injury. Wenger has yet to put a timeline on Gabriel's return, although you get the feeling it is imminent since the manager has twice ruled out the Brazilian close to kick-off.
Mikel Arteta, Jack Wilshere, Santi Cazorla, and Tomas Rosicky have all been ruled out. Wilshere and Cazorla are weeks away, whilst Arteta is out indefinitely, and Rosicky is due to return in May.
Here is Arsenal's most probable starting lineup against Barcelona on Tuesday.
Goalkeeper – Cech
Petr Cech has faced Lionel Messi six times and has yet to concede to the Argentine. Obviously, Barcelona also possesses the goal scoring threats of Neymar and Luis Suarez.
Cech was a member of the Chelsea side that knocked Barcelona out of the Champions League Semi-Finals 2012. Arsenal fans will hope Cech is the good luck charm.
Right Back – Bellerin
Hector Bellerin faces his boyhood club for the first time in his career. Bellerin came through Barcelona's youth academy before transferring to Arsenal at the age of 16 as a part of Cesc Fabregas' move to Barcelona from Arsenal.
Tuesday's match will be a real test for the young Spaniard. He will likely come up against Neymar who should start on the left wing for Barcelona.
Center Backs – Mertesacker & Koscielny
In the absence of Gabriel, Per Mertesacker continues his partnership with Laurent Koscielny. It seemed that Gabriel had usurped Mertesacker in the starting lineup before his injury. However, the partnership between the German and Koscielny is strong and experienced. These two will have to be at the top of their game on Tuesday.
Koscielny has dealt well with Messi in the past, but the three-pronged attack of Suarez, Neymar, and Messi poses a whole new challenge.
Left Back – Monreal
Nacho Monreal comes back into the squad after Kieran Gibbs took his usual place in the FA Cup. Monreal is better positioned to deal with Barcelona's attack than he has ever been in the past. His consistency, calmness, and decision-making will be an asset for Arsenal in this match.
Defensive Mid – Coquelin
Francis Coquelin will have an important role to play on Tuesday. His organizational skills will be put to the test. It's unlikely he man marks a single player because Barcelona's movement and pace in transition will make it difficult for him to track one single player. His play will be imperative to Arsenal's attempt to break up Barcelona's counter attacks.
Center Mid – Ramsey
Aaron Ramsey comes back into the squad as well. His engine and stamina will be an asset in midfield. This looks like the type of game where Ramsey will have to play a prominent role in both defense and attack, meaning it is important he gets up and down the pitch regularly but in a disciplined manner.
Attacking Mid – Özil
Mesut Özil could be the difference in this match. Barcelona without a doubt outmatch Arsenal, but the class of Özil should create a few moments for Arsenal. The key for Arsenal is to take advantage of any moments created by Özil, something that they've failed to capitalize on the past few matches, even if they are far and few between.
Wide Right – Oxlade-Chamberlain
Alex Oxlade-Chamberlain gets the start ahead of Theo Walcott and Joel Campbell. Walcott is a liability in defense and Campbell lacks the pace to get up and down the pitch consistently. Oxlade-Chamberlain has the pace and technique to be a constant danger in attack, and is better disciplined in defense compared to Walcott, although not Campbell.
Jordi Alba is possibly the best left back in the world and Oxlade-Chamberlain has a big task ahead of on Tuesday.
Wide Left – Alexis
Alexis faces his former club for the first time since moving to North London in 2014. The Chilean has been out of form since returning from injury in January, but Wenger has back his talisman to step up in the big moment.
Alexis spoke of his excitement to play against Barcelona, not only because it is his former club, but also because they are a big club.
Alexis has shown a knack for stepping up in big matches like this and maybe Tuesday is exactly what he needs to break out of his poor form.
Striker – Giroud
Giroud gets the start on Tuesday ahead of Danny Welbeck and Walcott, who both started against Hull City on Saturday.
Giroud is likely going to find himself isolated for much of the match. His hold-up and link-up play is going to be important Tuesday if Arsenal are going to get a result. The French striker has shown willingness to play physically the past month, even though he hasn't scored for seven games now.
While Arsenal will take a goal from wherever they can, it would be good for Giroud to break out of his goal drought against a top club like Barcelona.
(4-2-3-1)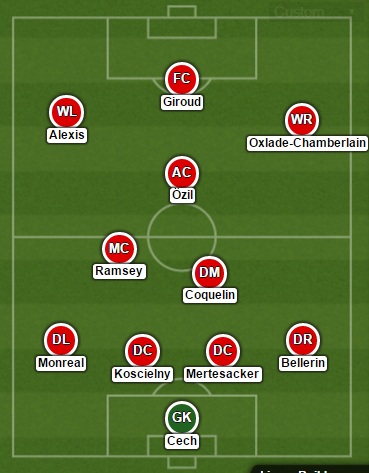 Via – Lineup Builder