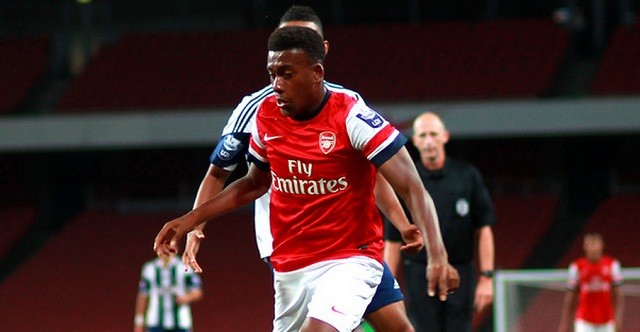 Former Arsenal striker and Nigerian international Nwankwo Kanu had very high praise for Arsenal youngster Alex Iwobi in a recent interview.
Kanu said that Iwobi is, "the star we are looking for.  He is going to learn a lot from Arsene Wenger and the club he is playing for – we need him to bring that back home and make sure he can help the national team."
Kanu is not the only one who has high hopes for the future of Alex Iwobi.  Arsenal manager Arsene Wenger also believes that the young Nigerian could be on his way to stardom.
This week Arsene Wenger complemented Iwobi saying that, "personally I believe this boy will be a great player for Arsenal Football Club.  Wenger continued by adding, "he's intelligent, motivate, focused every day, has a consistent attitude and I'm very happy for him.  I hope he will be with the first team for a long time."
As a 19 year old player Iwobi has not yet been able to get consistent playing time with the first team, but he has been impressive in his limited playing time this season.
Iwobi has started games in the FA Cup and League Cup this season, and he is likely in line to get another start against Hull City in the FA Cup this weekend.  During these cup opportunities, Iwobi has been able to make a positive impact by creating chances for the Arsenal strikers, and his performances have helped Arsenal progress through the 3rd and 4th rounds of the FA Cup.
In addition to these cup performances, Iwobi has come on as a sub 5 different times in both the Premier League and the UEFA Champions League.  It is difficult for young players to make a major impact in limited time as a late game substitute, but these appearances demonstrate that Iwobi is very much on Arsene Wenger's radar.
Iwobi has received high praise from people with a great understanding of the sport.  He appears to have great skill and a great work ethic, and Iwobi appears to have the potential to be a future star for both Arsenal and Nigeria.