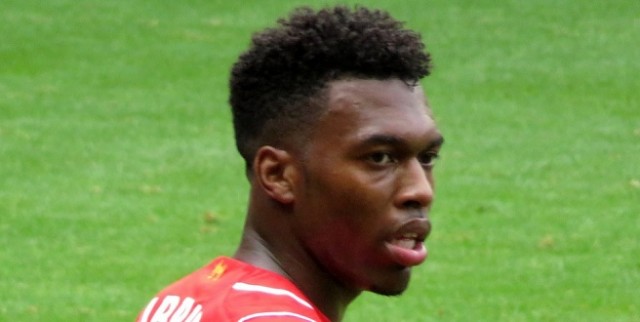 A 6-0 win over Aston Villa was just what Jurgen Klopp and Liverpool needed. Not only did many key players return from injury, guys like Emre Can and Mamadou Sakho looked well-rested. However, the schedule remains compact with the return of the Europa League. The Reds travel to face a struggling Augsburg side that have yet to win a match in 2016.
Klopp and his team will want to put a few goals past the Augsburg goalkeeper, especially because they should rest some key players in the second leg since they face Manchester City in the Capital One Cup final just a few days after. That is why the manager will field maybe the same side from the weekend to ride the momentum they generated.
Goalkeeper
Simon Mignolet remains a frustrating player but he will likely have a relatively easy match on Thursday since Augsburg have only scored 23 goals this year. Still, if he makes a mistake that allows a goal in, that should be the final straw for Klopp.
Right-Back
Nathaniel Clyne showed his attacking chops with his first goal for the Reds but he may not have as much freedom to stay that high up the pitch since he was facing a very lackluster Villa team. Hopefully his success in the last match doesn't go to his head and keeps him from focusing on his defensive duties.
Center-Backs
Dejan Lovren may start if he is healthy enough but Kolo Toure remains a capable back up. Mamadou Sakho is slowly but surely returning to his top form. His passing remains one of his strongest skills and it allows him to build counter-attacks from the back.
Left-Back
Alberto Moreno keeps Brad Smith and Jon Flanagan from taking his spot for now. The Spaniard connected well with Coutinho and that could become a dangerous pair for opponents to deal with.
Defensive Midfield
Jordan Henderson should dominate the midfield and he should be able to show his true quality now. Emre Can looks well-rested after having a couple of days off. His energy in the middle of the field is always useful and he finally looks life he is doing what he is could at rather than trying to do everything.
Attacking Midfield
James Milner remains the team's most consistent player and his set piece taking has improved in recent weeks. The scoring burden on Roberto Firmino should be eased by the return of other attacking options. He has been Liverpool's main attacking outlet ever since he was put in the false nine role but he can now focus on creating and penetrating defenses.
Philippe Coutinho was the best player on the pitch against Villa and he doesn't seem to have any lingering issues from his injury, The one thing that he needs to improve is his stamina, he hardly ever plays the full 90 minutes.
Forward
Daniel Sturridge's impeccable goal scoring record continues. His presence on the pitch gives his teammates an immense amount of confidence and he strikes fear into opposing defenders. The break between matches should make it safe enough to start him again. If Klopp decides to be more cautious, Divock Origi looked great when he came on.
(4-2-3-1)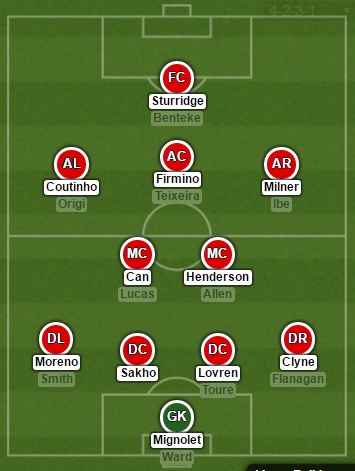 Via – Lineup Builder