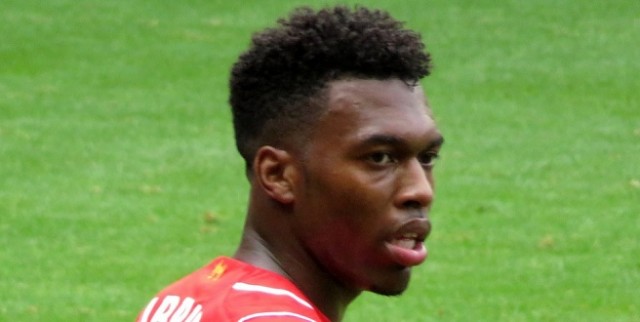 The struggles for Jurgen Klopp and Liverpool continue. The team's latest setback, a late 2-1 loss in the FA Cup to West Ham may be difficult to swallow for fans of the club but on the bright side, the young players should that they have a lot to offer and the schedule became a little easier.
Even if the team's form remains underwhelming, a number of players are returning from injury just in time to provide a massive boost to the squad.
The quest for a place in the top four continues with a trip to Villa Park against the last placed Aston Villa. This is a must-win match for the Reds, they have to get a little momentum going before the Europa League starts again.
Goalkeeper
Time should be running out for Simon Mignolet but it seems like Klopp is putting his faith in the Belgian for now. Even if his defense isn't reliable, Mignolet needs to make sure that he limits his mistakes so that the opponents don't get an easy goal.
Right-Back
Nathaniel Clyne continues to put on good performances but he still needs to work on his contributions when he charges up the field.
Center-Back
With Dejan Lovren unable to start this weekend, Klopp will start one of Kolo Toure or Steven Caulker. Toure might be the better choice given his experience and the fact that he had a good run of form recently.
Mamadou Sakho better start improving now that Martin Skrtel is close to returning. He has all the tools to be a great defender and he has shown that ability before, he just gets flustered at the worst moments.
Left-Back
Like many of his teammates this year, Alberto Moreno has been all bark but no bite. Commentators always bring up the fact that he has creates a lot of chances but so many of them come up empty. He needs to make sure that a run is being made towards the box when he has a chance to hit the ball into the danger zone.
Defensive Midfield
There are a few fans who are starting to doubt Jordan Henderson's ability to lead the squad but everyone in the club is going through a tough period and is there really a better option? Emre Can is slowly losing his grasp on a place in the squad. The break between matches should help him but Lucas Leiva could make another appearance after his great performance against West Ham.
Attacking Midfield
Adam Lallana should be able to perform better now that there is less pressure on him to be a creative force. He can focus on using his work rate to win the ball back up the pitch and keeping the team moving forward with smart passes. Philippe Coutinho returned in a big way against Sunderland as he scored with a cheeky free kick that went under the wall.
He is still the best creative force on the squad and he should be able to generate a lot of chances this weekend. Similar to Lallana, James Milner can now focus on doing the things that he does best. His cross for the team's first goal last week was something that the team has been lacking all season, If he can replicate that pass more consistently, it adds a new dimension to the Reds' attack.
Forward
As great as it would be to see Daniel Sturridge start the match, it makes more sense to slowly build his stamina by bringing him on as a substitute. Roberto Firmino has been the team's best player for a while now and Klopp should ride his form for as long as it's present.
(4-2-3-1)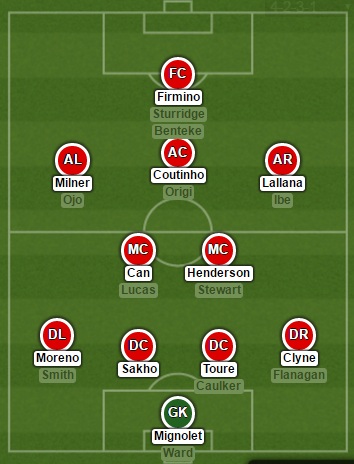 Via – Lineup Builder