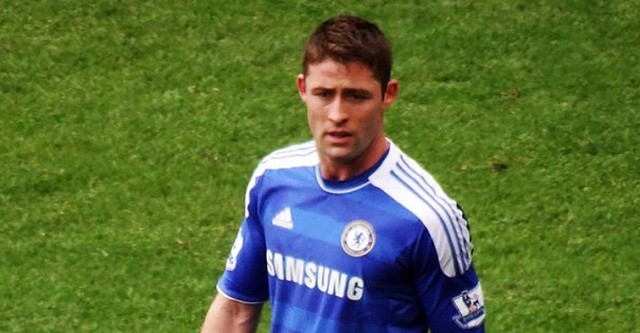 Chelsea's unbeaten run continued with the Blues either winning or drawing in all of their last 11 games (10 games with Guus Hiddink and 1 game with Steve Holland) against Watford, Manchester United, Crystal Palace, Scunthorpe, West Bromwich Albion, Everton, MK Dons, Watford, and Manchester United again.
However, Chelsea could've lost their unbeaten run after they went down 1-0 against Manchester United, but Diego Costa equalized the game in the 91st minute and kept up Chelsea's unbeaten run! This once again showed that Guus Hiddink's Chelsea doesn't give up and fights until the very end. Now we have to wait and see if Chelsea could keep up their unbeaten run against an inconsistent and unpredictable team, Newcastle United. The Blues know that Saturday's game won't be easy, as although Newcastle are in the relegation battle, they have got good results against most of Premiere League's top teams.
Goalkeeper
Thibaut Courtois was great against the Red Devils, with the Belgian goalkeeper making great saves to keep Chelsea in the game. He is a world class goalkeeper and Chelsea's best choice to start against the Geordies.
Defense
Chelsea's Central Defenders, John Terry and Kurt Zouma, had built an amazing partnership which helped them keep Chelsea unbeaten in their last 11 games. However, the Blues can't use Zouma as he was horribly injured against Manchester United and will miss most of the remaining season (if not the entire season).
So Chelsea should go back to their previous season's partnership with John Terry and Gary Cahill in Central Defense. John Terry was great against the Red Devils and Gary Cahill was very good when he replaced the injured Kurt Zouma, so they both deserve to start against the Geordies on Saturday.
Ivanović's performance in Chelsea's Right Back position against Manchester United was very strange! He was horrible defensively but great offensively, with him having one of the best chances to equalize the game for Chelsea, which was brilliantly saved by Manchester United's goalkeeper, David De Gea. Azpilicueta wasn't great either, with the Left Back not doing well defensively in the buildup to Jesse Lingard's goal for Manchester United. However they should both be given another chance and start for the Blues against the Geordies.
Midfield
Jon Obi Mikel and Nemanja Matić were both decent in Chelsea's Central Midfield position. Mikel was great defensively which allowed Matić to go forward and attack. They both performed well and deserve to start against the Geordies.
Hazard should start as Chelsea's Left Attacking Midfielder against Newcastle United as he played well against Manchester United. Willian should also start as Chelsea's Right Attacking Midfielder against Newcastle United as he was one of Chelsea's best offensive figures in the first half of Chelsea vs. Manchester United.
Although Oscar wasn't starting in his natural position (Central Attacking Midfielder) he should've still done better and doesn't deserve to start against Newcastle United. Cesc Fabregas should start as Chelsea's Central Attacking Midfielder instead of Oscar, as he performed very well and even set up Diego Costa's late equalizer against Manchester United.
Striker
Diego Costa was one of the Blues' best players in Chelsea's match against Manchester United, with the Spaniard scoring the Blues' late equalizer against the Red Devils. He should definitely start against Newcastle United as he is once again, Chelsea's biggest attacking threat.
(4-2-3-1)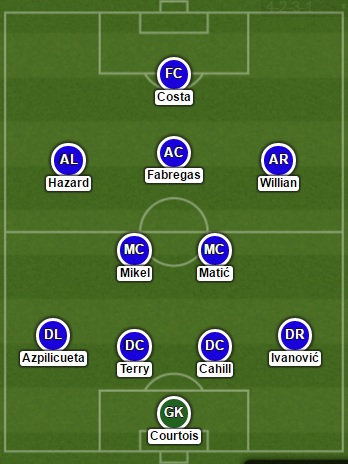 Via – Lineup Builder