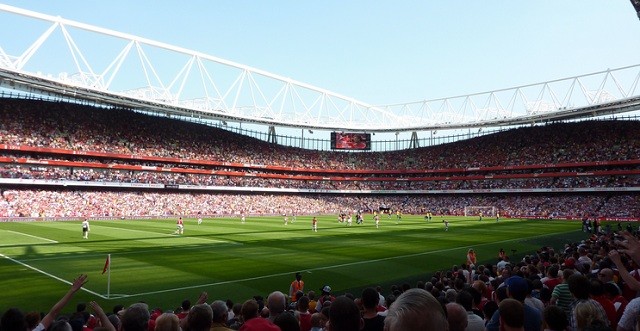 Arsenal welcomes Leicester City to the Emirates Stadium Sunday morning in a top of the table clash. Leicester, the surprise league leaders, are playing outstandingly, with their 3-1 win over Manchester City last weekend serving as the perfect example why the Foxes find themselves in 1st.
Arsenal is coming off a good 2-0 win away at Bournemouth. The result came after a series of disappointing draws, as well as a loss to Chelsea, which saw the Gunners slip from 1st, to 4th, and now tied for 2nd with Tottenham.
Although Leicester is in superior form, Arsenal has a tendency to end seasons strong. With Leicester not playing another top-four team until May, this is a must win match for the London club.
In the earlier fixture between these two clubs this season, Arsenal came out 5-2 winners, making them one of two teams to have defeated Leicester in the league this season. Alexis exploded into form in that match with the Chilean notching a hat trick before Jamie Vardy brought his club back to within three goals.
The stage is set yet again for Alexis to explode onto the scene against the same club he punished in September. The Chilean recently returned from a two month lay off and has not quite found his peak form yet. The importance of this match could push Alexis to shed the rust he's showed this past month, considering he has a habit for showing up in big matches.
On the topic of players returning from injury, Arsene Wenger spoke to the press in the build up to this match. He revealed that Danny Welbeck is just short of fitness for this weekend, but is likely to feature the following weekend against Hull City in the FA Cup.
The manager also discussed the fitness of Jack Wilshere and Santi Cazorla, who are both running and weeks away from playing. Mohamed Elneny also makes a return to the squad after being absent the past due to the birth of his first child. Other than that, everyone is fit for this weekend.
Here is Arsenal's most probable starting lineup.
Goalkeeper – Cech
Petr Cech claimed his 12th clean sheet of the season last weekend. He pulled off a number of clutch saves late in the game, keeping Bournemouth out of reach.
Cech and the back four will be very aware of Leicester's ability to counter quickly. The commanding keeper will be especially attentive to the long balls that Leicester loves to play to Vardy and Riyad Mahrez.
Right Back – Bellerin
Hector Bellerin's pace will be valuable in this match because of Leicester's aforementioned ability to quickly transition. It's possible we may see less of an attacking Bellerin in this match and more of a defensive-minded one. That will likely be dictated by the flow of the game.
Center Backs – Koscielny & Gabriel
Laurent Koscielny and Gabriel will continue their run together in the center of Arsenal's back four. The Brazilian has kept Per Mertesacker out of the squad since the towering German was sent off against Chelsea.
Wenger praised Gabriel's performances this past week and commented on the Brazilian increasing confidence. While Gabriel has been impressive the past few weeks, he regularly finds himself to be a part of one nerve racking moment per game.
Mertesacker's experience would be valuable in this game. The German's ability to read the field and prevent players from getting past him would prove helpful against a fast team like Leicester City. However, Wenger will likely prefer the pace of Gabriel and Koscielny over the slow Mertesacker, in an attempt to minimize the damage Vardy and Mahrez could cause via long balls.
Left Back – Monreal
Nacho Monreal had his first non-descript match of the season last weekend. His performance did not stand out as a poor one, however, he did not show the same conviction he has done this season.
Monreal's matchup against Mahrez will be pivotal in this match. The Spaniard is certainly up for the challenge, and has so far dealt with everything thrown at him this season.
Defensive Mid – Coquelin
Wenger has been hesitant to start Francis Coquelin since the French midfielder's return from injury. Much of that has to do with fitness, with the manager being a good judge of whether Coquelin is ready or not.
At some point, Coquelin has to start regularly in place of Mathieu Flamini. Flamini has done an adequate job in place of Coquelin, but his influence on the pitch is limited and his partnership with Aaron Ramsey is starting to weaken.
Considering the magnitude of this match, it's very likely Coquelin is reintroduced into the first team for good. Coquelin's inclusion in the starting eleven would be a huge boost to this Arsenal squad.
Central Mid – Ramsey
Ramsey was in superb form last weekend. He showed improved defensive discipline, something that had been lacking the past month, and was involved in both of Arsenal's goals. The first one, the Welsh midfielder floated in a nice cross to Olivier Giroud who headed down for Mesut Özil to smash into the top of the net. Ramsey assisted Alex-Oxlade Chamberlain on the second goal with a nice lay-off that allowed Oxlade-Chamberlain to receive the ball in stride.
Ramsey will have to exhibit a great amount of defensive discipline in this match, as Leicester will look to catch Arsenal on the break. Coquelin's presence in the squad will be of great help to Ramsey.
Attacking Mid – Özil
Özil was in superb form last weekend. He scored Arsenal's first with an authoritative right-footed volley. The rest of the match he found himself on the ball often, finding his teammates in dangerous positions, and looking to get on the ball at all times. Overall it was a very typical Özil performance.
Özil will have an important role to play in this weekend's match. Tomas Rosicky highlighted the quality of Özil this week and indicated that where Özil goes, Arsenal goes.
Wide Right – Oxlade-Chamberlain
Oxlade-Chamberlain started ahead of Joel Campbell and Theo Walcott last weekend. The Englishman got his first goal since he scored against Chelsea in August, with a well-placed finish that clanged in off of the far post. He wasn't entirely affective the rest of the match, but he showed willingness to defend and didn't do much wrong.
His goal last weekend could serve as a needed confidence booster for the rest of the season. Oxlade-Chamberlain has struggled this season and seems to playing with too much effort and self-criticism. A few weeks ago, Wenger acknowledged that Oxlade-Chamberlain is his own biggest critic and maybe he needs to get out of his own head.
Oxlade-Chamberlain could be an incredibly important force down the road and a hot streak of form could propel Arsenal to end the year on a high.
Wide Left – Alexis
As mentioned above, Alexis exploded against Leicester last time these two teams met. He finds himself a similar situation this weekend. He is still looking for peak form after returning from injury and the feeling is he is only a game or two away from completely breaking out.
The Chilean has scored in large bunches this season. Right now would be a good time for one of those bunches to make an appearance.
Striker – Giroud
Giroud claimed an assist last weekend. He set Özil up well with a clean header that fell right in his German teammate's path.
The French striker will face a physical battle against Robert Huth and Wes Morgan, neither of which let their selves be bullied on the pitch. Giroud has shown that he is up for the physical aspect of the game the past few weeks. His ability to win his duels will be important towards Arsenal's ability to move the ball quickly, breaking down Leicester's solid back four.
(4-2-3-1)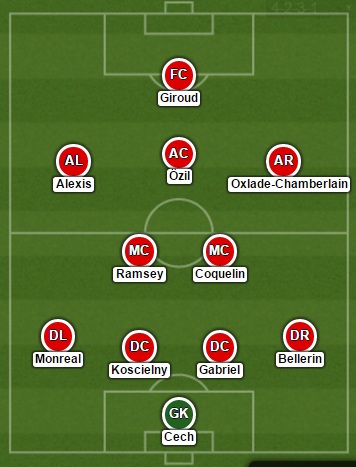 Via – Lineup Builder