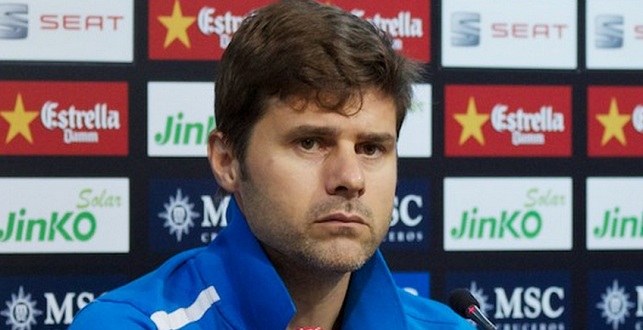 After a dominating win against Watford, Tottenham travel to the Etihad on Valentine's Day to take on Manchester City in arguably their biggest match of the season so far.
Going into this match,Spurs find themselves the odd favourites. Manager Mauricio Pochettino has taken the squad to new heights this season as they're currently second place in the Premier League.
Meanwhile Man City manager Manuel Pellegrini has his hands full with his  side as players like Vincent Kompany, Kevin De Bruyne, David Silva and Eliaquim Mangala are just a few of the big names that will miss this match due to injuries.
With league leaders Leicester City also playing Arsenal on Sunday this is a big chance for all of the Top 4 teams to possibly gain some ground on the teams ahead of them, or for Leicester's case continue to put more space between themselves and the rest of the league.
Pellegrini's squad have been very inconsistent and seem to lack motivation lately but a big win against Spurs could be the turning point. Spurs however could see the gap between first and second place shrink if Leicester City struggle against Arsenal. With that being said here's the lineup I think Pochettino will display against Man City.
Goalie: Hugo Lloris – The Frenchman will once again be in net on Sunday as he's been one of the best goalkeepers in the Premier League this season.
Defence
Right now Pochettino has been blessed with four talented, quality fullbacks that can be called on and rotated in to exploit an opposition's weaknesses. Poch will be going with Kyle Walker at right back as he's more athletic than Kieran Trippier. Walker will get up and down the pitch and also look to keep Rahem Sterling at bay. Danny Rose is usually paired with Walker but Poch will start the more reliable defender, Ben Davies.
The reason Davies will get the nod is so Kevin Wimmer doesn't have to worry about that flank as Toby Alderweireld and him will be tasked with containing an inform Sergio Aguero. The Argetine is certainly able to win matches on his own, and with him on such a run of great form, the less Wimmer has to worry about, the more he can focus on shutting down Aguero.
Midfield
Eric Dier will sit above Alderweireld and Wimmer as the holding midfielder and Mousa Dembélé will be just above him in the centre midfield. It usually would be expected that they'd be going up against Yaya Toure in the centre of the pitch but after a terrible performance where Toure look uninterested in playing defence, or being on the pitch for that matter, Pellegrini may be resorted to dropping him to the bench.
If that's the case a combination of Fabian Delph, Fernando, and Fernandinho will get the start. Dembélé is such a physical presence in the midfield a good performance for him is essential if Spurs want to win the battle in the midfield. Dier is turning into one of the best centre defensive midfielders in the country and will have to help prevent through balls from reaching Aguero.
In the attacking midfield Christian Eriksen will be in a centre attacking midfield role while Dele Alli and Erik Lamela will be on the left and right side respectively. Tottenham want to press high against Man City and for that reason Lamela will get the start as he consistently works hard to get the ball back and to create havoc amost that backline.
Alli has had a hand in 11 of the last 14 of Tottenham's Premier League goals and is currently on a great run of form. Eriksen will look to receive balls from Dier or Dembélé and while looking to release Alli or Lamela on the flanks or Harry Kane up top.
Striker
Harry Kane: Kane will look to take advantage of a backline that could feature the old and struggling Martin Demichelis. A liability at this point for Man City when he's on the pitch, if Demichelis starts, Kane and Spurs should look to exploit that.
Manchester City play a very attacking, possession based game and that could play right into Spurs hands if they choose to play a counter attacking, pressing style like they did in their last match against the Sky Blues.
Last week, Leicester show that Manchester City are weak against counter attacks, pressing, and physicality. Not to mention they struggle to defend against set pieces. If Spurs can exploit these weaknesses, or if City fail to learn from the Leicester match, then Tottenham should come away with three points.
What's your strongest lineup against Man City and what do you think the result will be?
(4-2-3-1)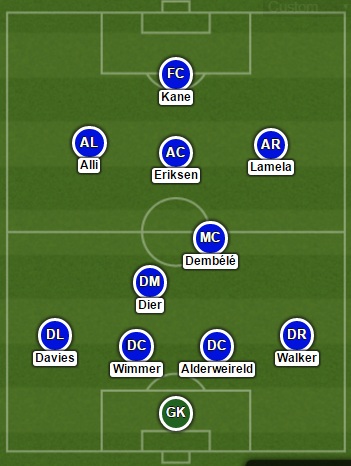 Via – Lineup Builder