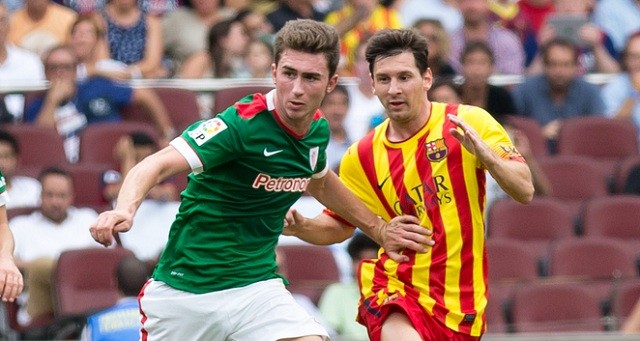 According to Defensa Central, Zinedine Zidane has asked Real Madrid to sign Aymeric Laporte this summer. The defender has been linked to the club in the past, and now with a fellow Frenchman in charge, the interest in him could increase.
As usual with Athletic Bilbao, they will be a tough club to negotiate with. Their modus operandi is to ask the inquiring party to pay for the full release clause of the player. In this case, Laporte's clause is 50 million euros, an amount that Los Blancos aren't willing to pay. However, Florentino Pérez wouldn't mind working to get that down to 40 million.
It's been a while since Real signed a center back, with Pepe, Ramos, and Varane being the main ones for quite a few years now. The Portuguese could be close to retirement and his presence next season isn't guaranteed. Same goes for Nacho Fernández, as he's getting too old to remain on the bench and other teams could really use him.
Laporte would bring youth, talent and fresh blood to the defense. His height is also a plus and would make him a great partner for Varane. Sergio Ramos has been underperforming since he got his raise, meaning that this summer the club could decide to sell him and completely revamp the back part of the squad.