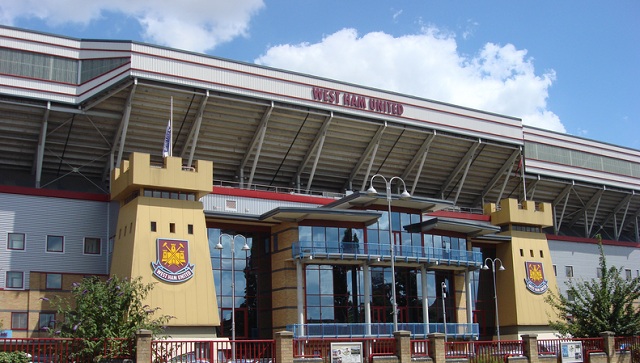 The matches continue to pile on Jurgen Klopp and a struggling Liverpool side. They remain winless since the penalty victory over Stoke and the team blew a two-goal lead over relegation candidates Sunderland last Saturday. Up next, they travel to Upton Park for the FA Cup replay match against West Ham. The first meeting between the two sides ended in a 0-0 draw but that result came with mostly under-21 players taking the pitch for Liverpool.
Given the strong performance of those young players in the last fixture, Klopp may decide to start many of them once again. It would be a good break for the first team players, many of whom have looked tired in recent matches and it would give the manager another look at many of the younger players. The match would also be a great opportunity to get Philippe Coutinho, Daniel Sturridge and Divock Origi match fit once again after all three recovered from injury. While they probably won't start, a good 15-20 minute cameo would boost the morale of a club that has not had any recently.
Goalkeeper
Danny Ward deserves a chance to show what he is capable of and after Simon Mignolet's latest mistake during the weekend match, it only makes sense to have a change at the back. The Welshman was having a great season at Aberdeen and it would be a waste just to keep him on the bench for the rest of the year.
Right-Back
Jon Flanagan remains a solid option on either flank and his reliability really helps bring some consistency to a defense that has been terrible all season long. His presence in the squad allows Klopp to rest Nathiel Clyne more often and the club seems to have their right-backs of the future set already.
Center-Backs
Steven Caulker performed well enough the last time he started so he deserves another one on Tuesday. He is a big player who won't be troubled by the physicality of Enner Valencia. Kolo Toure is the wily veteran of the crop of Liverpool defenders and he has been one of the best performers at the back.
Left-Back
Brad Smith is becoming a real threat to Alberto Moreno's spot in the starting lineup. Another match against a quality opponent will give the fans and Klopp a better assessment of how good he could actually be.
Midfield
With Cameron Brannagan missing the match through illness, a tough, defensive-minded midfield of Kevin Stewart, Lucas Leiva and Joe Allen should start. While they won't create a ton of chances, they should be able to disrupt the West Ham midfield. If they are able to do so, players like Dimitri Payet and Valencia won't be able to receive the ball in dangerous areas.
Right Wing
At 20 years old, Jordon Ibe is still young but he really has to show a little bit of growth in order to keep his spot. Sheyi Ojo has looked like a huge talent whenever he has come on as a substitute and he could definitely start but Ibe is the safer option for now.
Forward
Another match, another opportunity for Christian Benteke to show that he is actually worth keeping in the long term. He needs to prove that he is willing to run when necessary and his body language on the pitch has to be more positive. Sturridge could start but the risk is a little too great for him to play a lot of minutes, especially after the length of time that he has been out.
Left Wing
Joao Teixeira is running out of chances to prove that he is worth keeping. He is only a few months younger than Coutinho and he hasn't been as influential as he should be when given a chance to start. The inconsistent minutes don't help but he proved his talent when he was arguably the best attacker for the Reds the last time the two clubs met.
(4-3-3)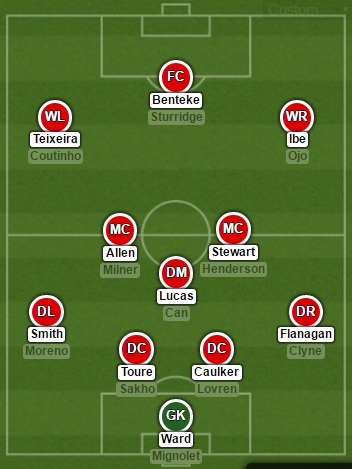 Via – Lineup Builder