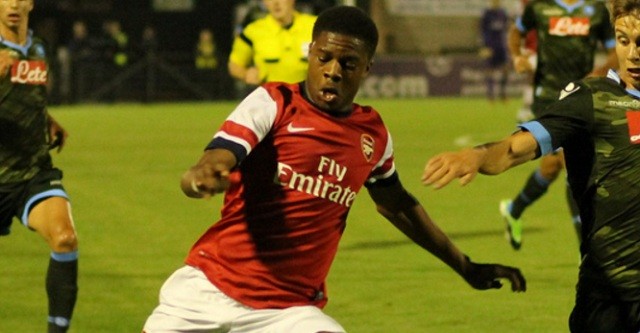 At the start of the season Arsenal sent young striker Chuba Akpom out on loan in an attempt to get him playing time, and to see if he could one day contribute to the Arsenal first team.  Unfortunately, based on his performances this season with Hull City, it appears Chuba Akpom will need to improve significantly if he is ever going to get consistent first team playing time with Arsenal.
Akpom has made a total of 29 appearances and has scored 7 goals in all competitions for Hull City this year.  These stats alone may not seem particularly alarming, but when we dig deeper into the circumstances it becomes clear that Chuba Akpom is not having a very good season.
One of the main concerns with Akpom's season is that he has scored four of his seven goals in cup competitions against teams from lower leagues.  He scored a goal in the League Cup against Accrington Stanley, and he scored a hat trick in the FA Cup against Bury.  Scoring goals against this lower competition does not tell us much about the talents of Chuba Akpom.
Against higher quality competition, Chuba Akpom has greatly struggled.  He has played 24 games in the Championship this season, but he has only scored 3 goals in this large number of appearances.
What makes this lack of goals from Akpom even more concerning is that his teammates are not having the same issues.  Hull City is in first place and has scored 45 goals in the league so far this season.  As a striker on a good team who gets consistently playing time, Akpom should be contributing a lot more goals than he currently is.
Another concern for Akpom is that not only is he not scoring goals, but he is not assisting them either.  He has 0 assists so far this season in all competitions, and he is only averaging a total 0.3 key passes per game.
Chuba Akpom has made hardly any contribution to his team at Hull City this season, showing that he is not yet ready for a first team role with Arsenal.  Chuba is only 20 years old, and he certainly has time to improve his game, but if he does not make significant improvements in the near future then it would be difficult to see Arsenal holding onto him for much longer.