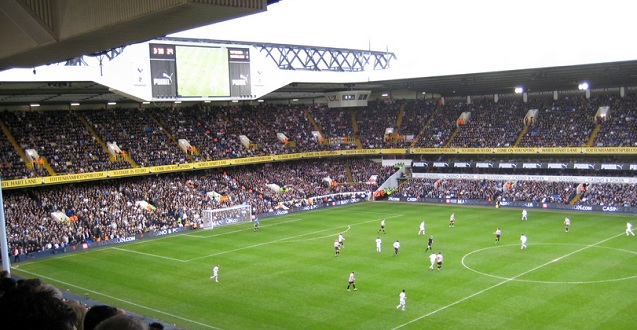 Tottenham Hotspur look to continue their fine run of form as they host Watford on Saturday at White Hart Lane.
Watford started off the season with a bang but since the start of the new year they've cooled off. During their last encounter it was the heroics of Son Heung-Min scoring in the last minute to beat Watford on what many believe was a controversial goal, as Son appeared to be offsides. With that in mind, Watford will probably come out seeking revenge.
It's the third game in a week for Mauricio Pochettino's side so I expect some rotation within the lineup.
Goalie: Hugo Lloris – Lloris will once again be in net for the Lilywhites as he's had an outstanding season and hasn't given Poch a reason to turn to backup Michel Vorm.
Defence: Like I stated earlier: since this is Spurs third match in a week span look for Pochettino to rotate the fullbacks with Kieran Trippier replacing Kyle Walker and Ben Davies replacing Danny Rose.
As for the centre-backs both Toby Alderweireld and Kevin Wimmer will get the nod from Pochettino, and will for most matches. Alderweireld looked like he missed having Jan Vertoghen by his side last match, and Wimmer was shaky at times, but the new pairing will settle in and get more comfortable with more matches together.
Midfield: In the midfield look for Eric Dier to once again be that holding midfielder playing just in front of Alderweireld and Wimmer. Poch could even play three centre backs pushing Davies and Trippier out as winged backs.
He used this tactic against Watford last time, and I wouldn't be surprised if he goes with it again as he looks to keep Hornets' starman Odion Ighalo at bay.
Mousa Dembélé will also be in the centre midfield as his physical presence and his skill on the ball could make things tough for the Hornets midfield.
Christian Eriksen will once again slot in as the No. 10 as he has been in recent matches. He looked outstanding against Norwich on Tuesday and for many was the man of the match.
Dele Alli came off early in the second half with dizzy spells so hopefully the 19-year-old will be fit. If not either Son or Nacer Chaldi, who's been on a great run of form, could slot in to the left of Eriksen.
Erik Lamela will be on Eriksen's right after resting against Norwich. The Argentine scored against Watford last match, and his creativity and skill on the ball will make things tough for the Hornets' backline.
Striker – Harry Kane
Kane will once again be the lone striker for Spurs as he looks to continue his fine run of form after scoring two goals against Norwich City.
It's going to be a tough match for Spurs as Watford plays a physical pressing type of football, but based on their fine run of form recently and since Watford have struggled since the start of the New Year, I think that Spurs will come away with three points.
What your strongest lineup for Tottenham and what do you think the result will be?
(4-2-3-1)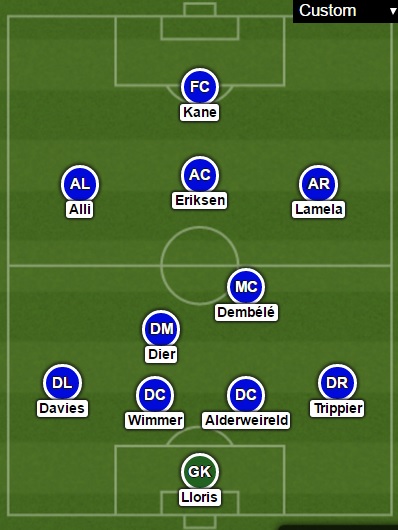 Via – Lineup Builder