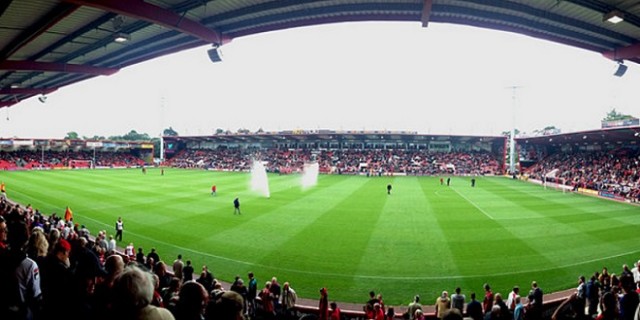 Arsenal and Bournemouth face off Sunday at the Vitality Stadium in the 25th match of the Premier League season for both clubs.
Not to sound repetitive, but Arsenal are coming off another tough result. The 0-0 draw with Southampton was a tough pill to swallow considering the amount of chances the Gunners created. But 21 shots were not enough to break the deadlock and Arsenal dropped a couple more valuable points.
Talks of Arsenal's title challenging failing is slightly premature, though. They are still five points off of league leaders Leicester City, who they host at home next weekend, and still have to play Manchester City, Tottenham, and Manchester United. While Arsenal currently sits in fourth after leading the table a few weeks ago, there are plenty of points to be had from the top four.
There is some unfortunate team news to report. Tomas Rosicky has been ruled out for up to three months with a serious thigh strain. The experienced midfielder was making his first appearance of the season last weekend after recovering from a serious knee injury. However, after a few minutes on the pitch, Rosicky felt something wrong but kept playing because Arsene Wenger had already used all three subs. The player didn't notify the manager until after the match.
The news is especially discouraging because Rosicky's contract expires at the end of the season. With opportunities limited in the squad, Rosicky is unlikely to extend his 10-year stay in North London. Wenger is optimistic that Rosicky hasn't played his last match for the club, but nothing is guaranteed.
Otherwise, there is no additional team news to report. Besides Jack Wilshere and Danny Welbeck, everyone is fit and available for this weekend. The manager may make one or two changes from Tuesday with Francis Coquelin and Per Mertesacker being the most likely newcomers.
Speaking of Welbeck, the English striker completed 60-minutes in a reserve match this Friday. His participation marks a huge step forward in his rehabilitation. Wenger wants to give Welbeck another two or three matches before introducing him into the first squad and a three week timeline has been placed on Welbeck's return.
Here is Arsenal's most likely starting lineup against Bournemouth.
Goalkeeper – Cech
Petr Cech starts in goal. His importance in the dressing room is more magnified then ever with the squad trying to come out of a small slump. A tough away match at Bournemouth awaits and the legendary keeper will have to be at his most professional.
Right Back – Bellerin
Hector Bellerin has slumped a bit the past few weeks. His crossing was poor on Tuesday, which is disappointing because usually he provides his teammates with excellent deliveries.
Hopefully the departure of Mathieu Debuchy doesn't coincide with a prolonged slump for Bellerin. The competition at right back was good for the club and clearly spurred the young Spaniard to do better.
Center Backs – Mertesacker & Koscielny
Mertesacker will start in place of Gabriel, who played next to Laurent Koscielny on Tuesday. Wenger likely sat Mertesacker during the week because the big German was terrorized by Shane Long the last time Southampton and Arsenal met.
Mertesacker's leadership on the field should provide the club with a boost over the weekend.
Left Back – Monreal
Nacho Monreal seemed to pick up an injury on Tuesday but managed to complete the full 90-minutes. During a stoppage in play, the Spaniard ran to the tunnel to receive some treatment and Monreal was moving around with a noticeable limp at the end of the match. Wenger didn't mention Monreal as a possible player who could miss out this weekend so one assumes he is fit enough to play.
If Monreal can't go, Kieran Gibbs will step up.
Defensive Mid – Coquelin
Coquelin will start his first match in the Premier League since November. The manager held Coquelin out on Tuesday after the French defensive midfielder completed 70-minutes a few days prior.
The Frenchman's fitness is likely not quite up to a standard where he can play two matches in a week, however, after sitting against Southampton, Coquelin should be fit enough to start on Sunday.
Central Mid – Ramsey
Aaron Ramsey has struggled with Mathieu Flamini as a midfield partner because both players expose each other's weaknesses. Coquelin can cover more ground and is a better defender compared to Flamini, which could allow Ramsey the freedom he craves to get forward. There is too much space left open in midfield when Ramsey and Flamini play together.
Coquelin and Ramsey have not played a lot of minutes together in central midfield so any judgment on this pairing must wait. On the surface, it looks like it could work. In reality, it has to work because Wenger has very little other choice.
One wild-card option that we are unlikely to see but could be interesting is Ramsey moving back to a wide right position and Mohamed Elneny slotting into central midfield next to Coquelin. If Ramsey-Coquelin doesn't pan out over the next few weeks, the Elneny -Coquelin scenario could be an interesting one.
Attacking Mid – Özil
Mesut Özil created a season high 10 chances for his teammates on Tuesday. He was also culpable of missing two of Arsenal's most clear cut chances.
After struggling a bit in the past few matches, Özil seems to have found his form again. Alexis' return to the squad certainly played a role in Özil's improved performance on Tuesday and the duo will play an important role in how Arsenal ends the season.
Wide Right – Campbell
Theo Walcott's performance as a sub on Tuesday provided clear evidence why Joel Campbell is starting as Walcott's abject and disinterested performance on Tuesday was incredibly disappointing.
Granted, Arsenal only looked to build through the left almost the entire match, essentially ignoring Campbell and Walcott on the right. However, Walcott failed to make any dangerous runs or make his presence felt in the box.
Campbell, for his part, worked hard defensively and looked to create when he had the ball. Not much came off for the Costa Rican but the effort was there.
When Campbell plays, there is better balance in the squad because of his defensive efforts. The problem is that Campbell can't seem to complete more than 65 to 70-minutes per game. Alex Oxlade-Chamberlain may be a better option off the bench at the moment.
Wide Left – Alexis
Alexis started his first match in the Premier League since November and looked very sharp. His performance on Tuesday was an improvement over his effective showing against Burnley in the FA Cup last weekend. An in form Alexis could carry Arsenal far in the league.
Striker – Giroud
Olivier Giroud had a frustrating day on Tuesday. The effort was there, and so was the fight and performance for the most part, but he couldn't seem to get himself to dangerous positions.
He tested Fraser Forster once with a curling right foot shot that seemed destined for the top corner only for the English keeper to palm the ball wide. Other than that, Giroud had a few tame headers that were saved comfortable.
Giroud has scored 18 times this year and is still Arsenal's most dangerous scoring threat. Arsenal's lack of goals this past month is not the fault of the Frenchman. He needs his teammates to contribute as well. Alexis' return will help, and maybe Welbeck has a part to play in the goal-scoring column this season.
(4-3-3)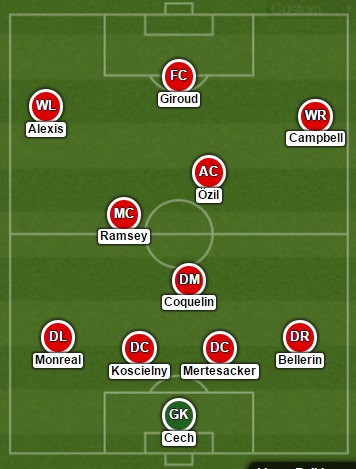 Via – Lineup Builder