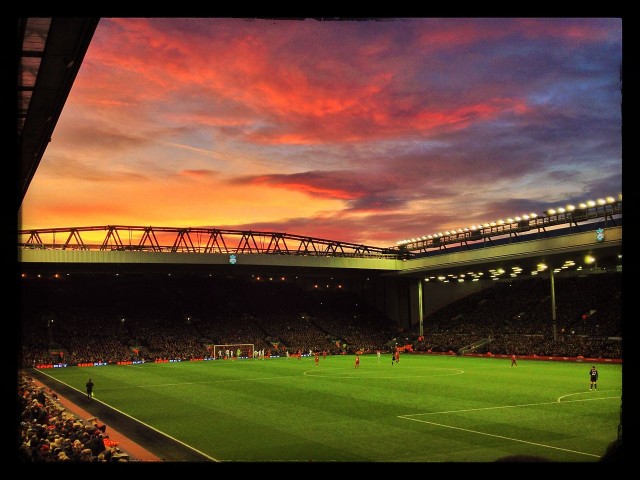 Jurgen Klopp and Liverpool suffered a 2-0 defeat at Leicester on Tuesday and the match was one of the most frustrating performances that any team could have. Even if they dominated possession, the Reds never looked threatening, they would get the ball into dangerous positions but there was a bit of fear in the player's eyes, nobody wanted to take charge and score.
As deflating as the loss was, there is some good news for both the fans and the players. Daniel Sturridge, Philippe Coutinho and Martin Skrtel are back in training and they will provide a major boost to a squad that lacks motivation to do anything on the pitch. Up next, the team faces 19th place Sunderland in Anfield on Saturday. This meeting is very winnable for the Reds since their opponents have only won once in their last five matches.
Goalkeeper
Simon Mignolet was beaten twice against Leicester, but neither of them were really his fault. The first was a goal that only very few players can score and the second took a lucky deflection that eventually allowed the ball to reach Jamie Vardy's feet. If anything, Mignolet was performing well before those two goals, he made a few saves that showed his full potential. He just needs to make those saves on a consistent basis.
Right-Back
While he has been far from perfect this season, Nathaniel Clyne can say with confidence that he is the most reliable defender the Reds have. He hardly misses any matches and his tackling has been consistently excellent.    
Center-Backs
Even if the two goals that Vardy scored came as a result of luck and excellent skill, both Dejan Lovren and Mamadou Sakho were not at their best against Leicester. They still look somewhat affected by the injuries they suffered earlier in the season. The good thing about this weekend's match is that they pretty much only have to worry about Jermaine Defoe since he is the only reliable goal-scorer for the Black Cats.
Left-Back
With both Brad Smith and Jon Flanagan challenging for a spot in the lineup, Alberto Moreno is now under pressure to perform better than he has been recently. The Spaniard possesses a cannon of a leg but he often misplaces his crosses when he charges up the field. If he doesn't show more consistency soon, he could find himself behind both Smith and Flanagan.
Midfield
Jordan Henderson should get a bit of a pass because he has been playing with a heel that hasn't fully healed. Still, he needs to inspire his teammates who have looked lost on the pitch. Lucas Leiva is another player who needs to lead the team, not necessarily by example but to get them moving all over the field.
He is one of the longest tenured players on the squad, it's time for him to show why he's been a Red for so long. After a lot of decent performances from the bench, Joe Allen deserves to start ahead of Emre Can. Can has looked remarkably tired over the last few matches and he pretty much loses his effectiveness after 30 or so minutes.
Right Wing
Hopefully James Milner will be able to return to the midfield after this weekend. As great as his energy and intensity is on the flanks, having one of Coutinho or Sturridge replace him in one of the forward positions will be better.
Forward
Roberto Firmino has played better as the lone striker in this formation but without his teammates stepping up, he cannot be effective. He needs to take command of the attack and make sure that he is more decisive when he gets one of the very few chances to get a shot on goal.
Left Wing
Adam Lallana still can't figure it out. He gets a lot of minutes but so many of them are empty, With other attacking midfielders, even if they don't score or get an assist, they are able to influence the match with a key pass or a dribble that opens space for a teammate.
Lallana doesn't do either one of those things, he loses the ball too easily when he is attempting to penetrate the opposing defense and many of his passes go nowhere. If he wants to retain his place in the squad going into next year, he really needs to prove his worth to Klopp soon.
(4-3-3)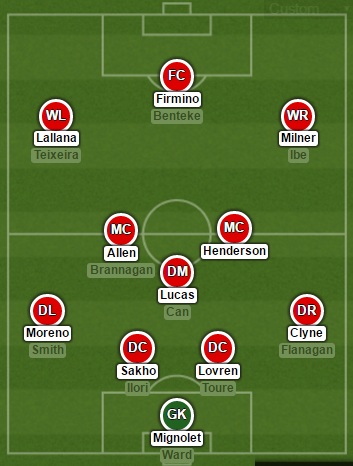 Via – Lineup Builder