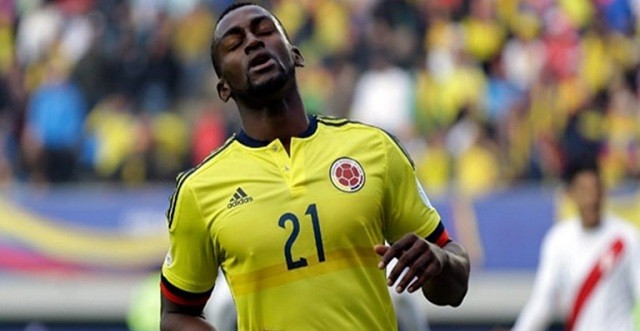 Chinese Super League club Guangzhou Evergrande have signed Atletico Madrid striker Jackson Martinez for a record breaking £31 million.
The deal is for four years and Martinez will join in on winter training in Dubai after a medical examination. According to DN.pt, Martinez will be making €12.5 million a year, making him the 5th highest paid footballer in the world.
Since arriving to the Spanish capitol from FC Porto, Martinez has failed to make an impact, scoring just three goals in 22 appearances. He also, according to Atletico's manager Diego Simeone, failed to adjust to the lifestyle.
Martinez joins a list of other high profiled stars that are set to make a move to China. Former Chelsea midfielder Ramires and Seria A duo Gervinho and Freddy Guarin are set to move over to China as well.
Martinez joins a club that's managed by former Chelsea and boss Luiz Felipe Scolari. Former Tottenham flop Paulinho and also Brazilian star Robinho will be his new teammates. Guangzhou Evergrande is also the reigning champions and currently are sitting in first place.
Before making the move to China, Martinez was linked with a move to the Premier League, although possible destinations Arsenal, and Tottenham were not willing to spend that type of money on the player after his poor performances in the Liga BBVA.
The recent spending and acquiring of top talent by the Chinese Super League comes down to Chinese President Xi Jinping's desire that the country become a football powerhouse. Martinez's move to China could just be one of many more to come.

What do you think about Martinez's move to China? Will China ever become a popular destination to play football?