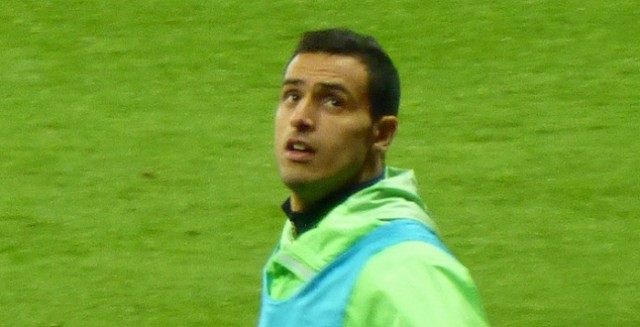 After a convincing win vs. Colchester United on Saturday in the FA Cup, Tottenham Hotspur will turn their focus back on the Premier League as they host Norwich City on Tuesday at White Hart Lane.
Spurs will be looking to grab three points against the struggling Canaries as they look to push closer to the league leaders Leicester City and separate themselves for West Ham and Manchester United who sit behind them.
Manager Mauricio Pochettino will certainly be starting most of the first team, as anything but three points will be a disappointment.
Defence
Hugo Lloris – The French keeper has been superb this season and will be in net again on Tuesday.
Right back: Kyle Walker – Walker hasn't played in the last two matches and should be ready and well rested. The Canaries are going to have there hands full, as Walker is excellent at pushing up and opening up the attack.
Centre-backs: Toby Alderweireld and Kevin Wimmer – Every Spurs' fan is certainly excited, yet a little nervous, to see how Alderweireld and Wimmer play together in the back. Wimmer slots in for Jan Vertoghen as the Belgian went down with mcl injury last week. He's a left-footed centre-back just like Vertoghen and Poch and most Spurs' fans seems very confident that the Austrian will be able to fill in without any problems.
Left Back: Danny Rose – Poch usually been rotating his fullbacks so with Ben Davies playing the last match, we can expect that Rose will get the start.
Centre Defensive Midfield
Eric Dier – Dier should be back in the centre midfield after dropping back to his natural position in the back four last match. Dier slowly is turning into on of the best holding midfielders in the Premier League, and will cause problems for the Canaries midfield. Despite playing heavy minutes this season, he's the best option as both Nabil Bentaleb and Tom Carroll failed to impress last match.
Mousa Dembélé – His rise under Poch this season has been a main reason Spurs are 4th in the table right now. It will be hard for the Canaries to control the midfield going up against both Dembélé and Dier.
Attacking Midfield
Attacking right – Dele Alli – Alli could find himself in an interesting part of the pitch on Tuesday due to Nacer Chadli's recent excellent run of form. With Alli never being deployed on the right side however, Poch could go with the more comfortable choice of Erik Lamela and have Alli come on early in the second half. I'm confident if Poch starts Alli on the right though, that he'll do fine.
Centre Attacking Midfield – Christian Eriksen – Poch could also put Alli right in the middle and push Eriksen out wide, but Spurs have played well recently with the Dane slotting back into the No. 10 role so I believe that's where he'll be on Tuesday.
Attacking Left – Nacer Chadli – Chadli has been in brilliant form recently, scoring four goals and also grabbing two assists in the span of three matches. He'll cool off eventually but Poch should reward him, like he did with Son against Crystal Palce, by starting him on Tuesday. He's certainly deserves it and has earned it.
Striker
Harry Kane – Kane will once again be the lone striker up top and will looks to emulate his performance against the Canaries on Boxing day where he netted two goals.

What's your best lineup for Spurs and what do you think the result will be?
(4-2-3-1)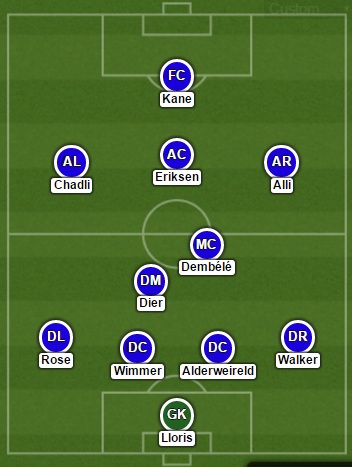 Via – Lineup Builder