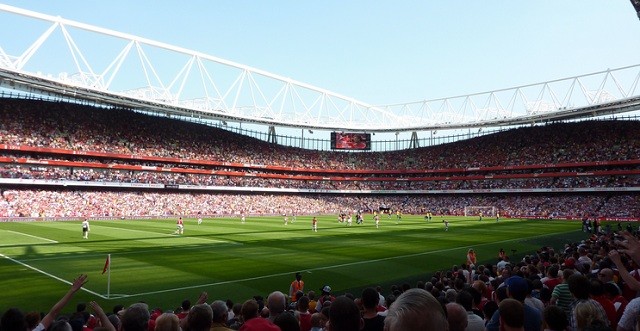 Arsenal takes on Southampton at the Emirates Stadium on Tuesday. The Saints inflicted Arsenal's worst defeat of the season in a 4-0 drubbing at St. Mary's earlier this season, something that is fresh on Arsenal's mind.
Speaking to the media ahead of the match, Arsene Wenger challenged his team to "put things right" this time around.
"They gave us a tough game last time and we have to put that right. It is a very important time in the season as we go into big, big games, and we have 13 matches to go."
Arsenal had just beaten Manchester City 2-1 just days before, and Wenger believes that the emotions and physical effects felt from that game had a part to play in the way Southampton dominated Arsenal.
"They were dominant in the challenges and the duels. We just came out of a very tough game at Man City, and maybe didn't have the urgency to cope with that. We were a bit unlucky with three goals on the decisions of the referee as well."
Arsenal come into Tuesday's match in slightly different circumstances this time. The Gunners defeated Burnley 2-1 in the fourth round of the FA Cup. Wenger was able to make nine changes to his squad, which included a debut for Mohamed Elneny, and first team returns for Francis Coquelin and Alexis.
Wenger will now be able to call upon the majority of his squad, making this an Arsenal team primed for a strong finish to the season.
Although Saturday saw the return of a few key first team players, it also saw the loss of Tomas Rosicky, who had recently returned from a knee injury. The Czech international suffered a thigh strain soon after he was introduced into the game as a sub. Wenger expressed fears over the seriousness of the injury.
"Nobody understands. I told him straight away after half-time to warm up. I observed him, he's very conscientious Tomas, he did sprint and sprint, and sprint. He comes on; after three minutes he got the injury.
"He warmed up well, for 20 minutes. He's devastated. Unbelievable. He's such a good player but his career has been disrupted by so many injuries.
"Let's hope we have good news, that it is not as bad as feared."
Rosicky's contract is up after this season, and it is unlikely to be renewed. The player is 35, and although he represents a class player who has something to offer to the squad, there are younger players ready to step.
Besides Rosicky, everybody who was available on Saturday and the week prior, is available for Tuesday's match.
Here is Arsenal's most probable starting lineup on Tuesday.
Goalkeeper – Cech
Petr Cech takes over goalkeeping duties again as David Ospina came into the squad for the FA Cup.
Right Back – Bellerin
Hector Bellerin returns to the squad. Calum Chambers had deputized at right back in place of the Spaniard over the weekend. The departure of Mathieu Debuchy signifies Bellerin's reputation and ability, and leaves Chambers as the top backup option.
Center Backs – Mertesacker & Koscielny
Per Mertesacker returns to the squad after serving a one-match suspension for his sending off against Chelsea. He takes over from Gabriel who played next to Laurent Koscielny over the weekend.
Koscielny is in the middle of a bit of indifferent form. He's made a habit of making one glaring mistake in each game these past few weeks.
Gabriel is in a similar situation. Both players could have done better against Chelsea's lone goal the match prior, and the Brazilian defender should be disappointed he didn't win his aerial duel against Burnley's goal scorer Sam Vokes.
Left Back – Monreal
Kieran Gibbs played well over the weekend, but Nacho Monreal makes his return to the first team as well. Monreal has been Arsenal's must reliable and consistent player this season. Only an injury would prevent him from playing at this point of the season.
Defensive Mid – Coquelin
Coquelin made an early return to the first team after a two-month lay off with a knee injury. The French midfielder is a welcome return to the squad. His presence should rebalance the midfield and give it the steel its been missing since his injury.
Coquelin was a bit rusty to start the match over the weekend, but he grew into the game and showed his distribution and tackling abilities. His energy in midfield will be welcome on Tuesday.
Central Mid – Ramsey
Aaron Ramsey starts next to Coquelin. The two have only played once together in the middle of the field and that was for 45 minutes in Arsenal's opening game of the season, which they lost 2-0 to West Ham. Ramsey is in good form, though, and he and Coquelin will quickly develop an understanding.
Arsenal has more width now than they did earlier in the season, in large because Ramsey is playing back through the middle. In that match against West Ham, Santi Cazorla and Alex Oxlade-Chamberlain were the wide players. Cazorla's lack of pace on the wings was obvious and it clogged the midfield.
Now that Arsenal have Alexis and either Theo Walcott or Joel Campbell on the wing, they have more speed out wide, which allows Mesut Özil and Ramsey freedom through pitch, and gives Coquelin a more defined area of the field to roam.
Attacking Mid – Özil
Özil has struggled to make an impact in the last few matches, although that is not down to effort. Özil was handicapped against Chelsea because Arsenal was a man down and the German often found himself with the ball without a teammate nearby. Against Liverpool, he struggled to make an impact because of the way the opposition managed to close him down and contain him.
Against Southampton, Özil will have to deal with Victor Wanyama, who is having an excellent season.
Wide Right – Walcott
It's really a toss up between whom Wenger chooses to start out wide. It could either be Walcott or Campbell. Campbell is arguably the more deserving player based on form. However, Wenger brought Walcott on to replace Alexis over the weekend, which could be an indication that the manager is favoring the Englishman.
The speedy tandem that Alexis and Walcott give Arsenal out wide is a dangerous combination that could pose Southampton significant problems. The two players formed a good understanding at the beginning of the season, but that was during a time when Walcott was Arsenal's first choice striker.
Wenger's affection for Walcott is well known, and if he were to choose on seniority, Walcott would get the start.
Wide Left – Alexis
Alexis made an effective full return to the squad on Saturday, bagging the goal that saw the Gunners progress to the fifth round. He was a constant menace on the ball, always looking for a shot, or a teammate in a dangerous position. His finish for Arsenal's second goal was excellent and he provides the Gunners with an important additional goal scoring.
The return of Alexis could play a pivotal role in the title race.
Striker – Giroud
Olivier Giroud had a good match against Burnley. Although he failed to score a goal, he won his aerial duels, made some good passes, and put in an overall effective performance.
The same should be expected this weekend.
(4-3-3)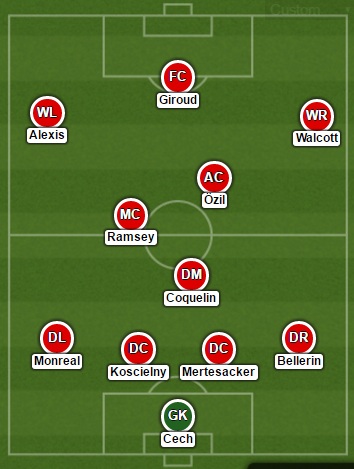 Via – Lineup Builder