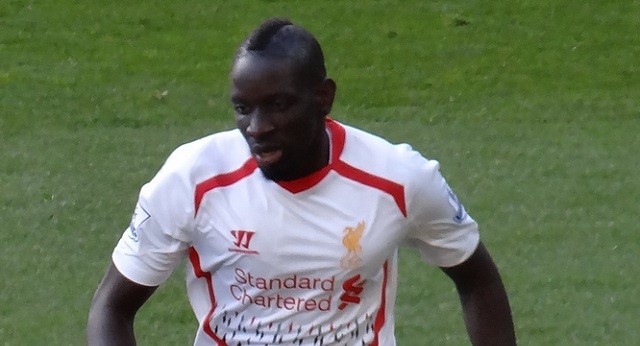 With a 0-0 draw in the FA Cup meeting with West Ham, another match has been added to the long list of fixtures that Jurgen Klopp and Liverpool have to deal with. They begin February with a away match against Leicester.
The Foxes haven't been the world beating side they were earlier in the year but they are still alone at the top of the Premier League table. Still, the Reds should be confident coming into the match since they already beat their opponents 1-0 when the two sides met at Anfield the day after Christmas.
Goalkeeper
Simon Mignolet has been playing a lot in recent weeks and there are no signs that he will lose his spot to Danny Ward any time soon. He will have some work cut out for him since Leicester are the second-highest scoring side in the Premier League.
Right-Back
Nathaniel Clyne has looked more assertive in recent matches but he may be pinned back by the relentless Leicester attack. He kept Marc Albrighton under wraps the last time the two sides met so he should have some confidence coming into the match.
Center-Backs
Dejan Lovren looked decent after his return from injury but he remains a player who looks like he is a step away from a terrible mistake. Mamadou Sakho remains the leader at the back for the Reds but if he is to continue being that player, he should try and find a way to fix the set piece issues they've had for much of the year.
Left-Back
Even if Alberto Moreno has been off form lately, Brad Smith still isn't ready to play against a team like Leicester. He will have to play well in this match since he will be marking Riyad Mahrez.
Midfield
The midfield three of Jordan Henderson, Lucas Leiva and Emre Can will need to be more consistent since they have lacked the end product this year. They will need to keep possession effectively as a means to limit the Leicester attack.
Henderson has been nowhere near his best recently and one has to wonder if he still hasn't fully recovered from the heel issue that kept him out for an extended period of time earlier in the season.
Right Wing
James Milner is not as dynamic as Jordon Ibe but his experience and leadership alone make him a better option. He has been playing better as of late and his sheer effort makes him a fantastic player to have in the lineup at all times.
Forward
Roberto Firmino should start again after Christian Benteke's continued ambivalence. The Brazilian seems to have found his form after struggling for a bit and he has adjusted well to being the lone striker in the team.
Left Wing
His recent form should buoy Adam Lallana and hopefully he doesn't go back to being the inconsistent mess he has been for much of the season. He has to be more decisive when presented with a scoring chance, especially since he is the only other true attacker who gets consistent playing time.
(4-3-3)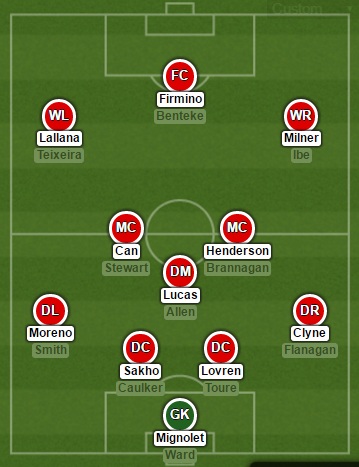 Via – Lineup Builder