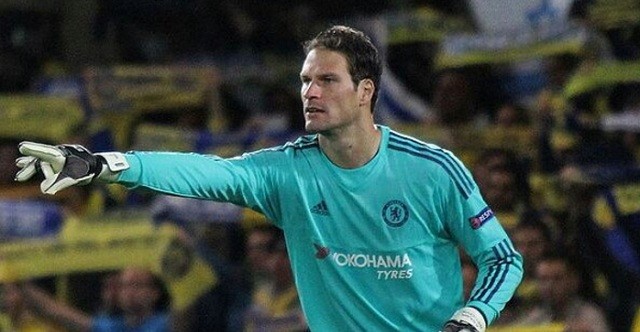 The Blues have remained unbeatable under Guus Hiddink after Chelsea won against a 10-man Arsenal in the London Derby. Chelsea have now been unbeaten in their last 8 games (7 games managed by Guus Hiddink) and have lifted themselves up to the 13th position in the Premiere League.
Chelsea's good run of form has delighted the fans who had experienced rough days in the beggining of the season, and the Blues are enjoying an 8 game unbeaten run which could become 9, if they would win or draw against MK Dons. Although many think that Chelsea winning against MK Dons is inevitable, it's not! MK Dons is the same team who won 4-0 against Manchester United in 2014 and could surprise the Blues on Sunday. So we'll have to wait and see if Chelsea could extend it's unbeaten run, or will they be knocked out by Championship's MK Dons!
Goalkeeper
Thibaut Courtois wasn't exactly the busiest man in the London Derby, with the Goalkeeper making only 1 save (based on premierleague.com statistics) and keeping a clean sheet against Arsenal.
He did spill the ball in a few occasions, but he was still mostly solid in goal. And although he is a brilliant goalkeeper, Begović should start instead of him in the FA Cup as he could get some playing time and also keep a clean-sheet agaisnt a not-so-threatening MK Dons side.
Defense
John Terry and Kurt Zouma's partnership is now one of the best defensive partnerships in the Premiere League, but Gary Cahill should start instead of John Terry, as he did well against Scunthrope in the FA Cup and deserves some playing time.
Ivanović did well as Chelsea's Right Back against Arsenal, with him defending well and assisting Diego Costa for the lone goal of the game. Azpilicueta was also decent, with the Left Back keeping his balance between defensive and offensive style of play. They both performed well and should start against the Dons.
Midfield
Cesc Fabregas and Jon Obi Mikel had a good game in Chelsea's midfield, with Fabregas operating Chelsea's attacks with great passes and Mikel supporting Chelsea's defense from the midfield. They should both start in Chelsea's central midfield against MK Dons, but Matić shouldn't start as he struggled to defend the midfield against Arsenal's quick players.
Hazard should start as Chelsea's Left Attacking Midfielder, as he is now completely fit and could help the Blues against the Dons. Willian should also start as Chelsea's Right Attacking Midfielder, as he is easily Chelsea's best player in the current season.
Ruben Loftus-Cheek should start as Chelsea's Attacking Midfielder, as he scored against Scunthorpe in Chelsea's last FA Cup fixture and deserves some playing time for the Blues.
Striker
Diego Costa has got back to his ideal form, with the Spaniard getting Arsenal down to 10-men (with an amazing run around Mertesacker) and scoring Chelsea's winner in the London Derby. Costa has also scored 6 goals in his last 7 games for Chelsea (with him also scoring against Scunthorpe in the FA Cup) and should start for the Blues against MK Dons.
(4-2-3-1)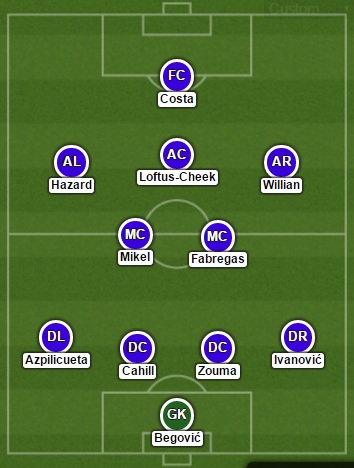 Via – Lineup Builder