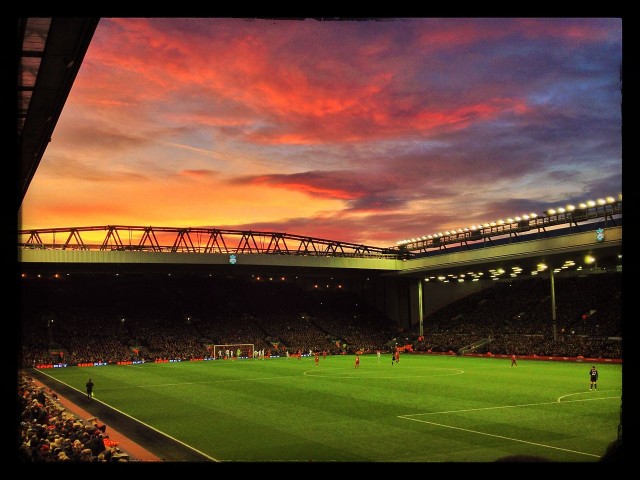 Jurgen Klopp and Liverpool have now won three matches in a row in all competitions. While the two recent performances, a 4-5 victory at Norwich and a penalty shootout win at home to Stoke, had a bit of luck involved, fans have to be encouraged by the fact that the players continued to play hard.
The old Liverpool would have settled for the point after Norwich equalized in the 91st minute, instead, Adam Lallana came in and made sure that they secured the three points. Again, the pre-Klopp squad would have lacked the confidence to beat a Stoke side that forced extra-time and the subsequent shootout after tying the aggregate score at 1-1. Klopp has definitely changed the mentality of the players and even if they finish outside the top four this year, the signs of progress are clear.
Up next, the Reds face West Ham at home in the FA Cup to end their packed January schedule. It will be interesting to see how strong Klopp's lineup is, many of the players played in the extended match against Stoke and they meet Leicester just a few days after this meeting.
He could decide to field a very young side sprinkled with a few veterans like he did in the replay against Leicester but if he wants to have a better chance at winning some silverware this season, going with his best is the better option.
Goalkeeper
Simon Mignolet's confidence should be much higher than usual after making two extremely vital saves in the penalty shootout. He guessed right in almost every single penalty that Stoke took.
While he still makes a lot of frustrating mistakes, he has done enough to hold-off Danny Ward for now. Klopp could definitely go with the youngster for this match and it would give him a chance to see if the form that Ward had in Aberdeen carries over to the bigger stage.
Right-Back
Nathaniel Clyne will likely return after missing the last match especially since Jon Flanagan just returned from a long spell on the sidelines and he probably isn't healthy enough to play on short rest. Connor Randall is another candidate but he will only play if Klopp does decide to go young.
Center-Backs
Dejan Lovren was on the bench in the last match and he will likely start, given Kolo Toure's age. Mamadou Sakho may continue to start despite his inconsistent performances but Steven Caulker has yet to start and Klopp does not really lose anything by giving the loanee a chance. Caulker's height and strength in the air could relieve some of the set-piece problems the club has had in recent weeks.
Left-Back
Alberto Moreno's recent drop in form may lead to a change and Klopp has a great candidate in Brad Smith to replace the Spaniard. Smith's penchant for charging up the field is similar to Moreno but it was his goal against Exeter that forced the replay which the Reds won 3-0.
Midfield
Jordan Henderson has looked tired in recent matches so it would make sense for Klopp to rest his captain. Both Cameron Brannagan and Kevin Stewart  could start but one has to wonder if Klopp is willing to inject some youth into the lineup while losing some experience.
Emre Can and Joe Allen have looked like the most energetic midfielders in the squad and Klopp has to reward Allen after he has proven himself after coming on as a substitute.
Right Wing
Jordon Ibe continues to be all bark and no bite when he plays. He has all the physical tools, he just needs to use them better. If Klopp decides to sit the youngster, James Milner is the safer option while Sheyi Ojo and Joao Carlos Teixeira could inject some excitement to the lineup. Both scored in their last appearance against Exeter and they will be excited to perform well.
Forward
Klopp started Christian Benteke in both matches against Exeter and he could very well continue that trend on Saturday. While he remains a frustrating player to watch on the field, with his low engine and inability to hold onto the ball, he is still the best finisher on the team and his dominance in the air is something nobody else on the squad can match.
Left Wing
Adam Lallana has to be motivated to play better especially after news that the Reds are pursuing Alex Teixeira, a player who would likely take over his spot in the lineup if he does arrive. As great as his willingness to bring his teammates into the match is, he needs to be a little more selfish and search for his own shot more.
(4-3-3)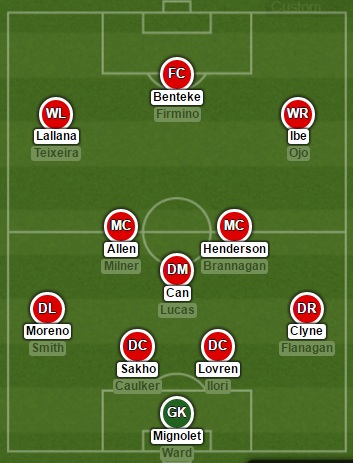 Via – Lineup Builder