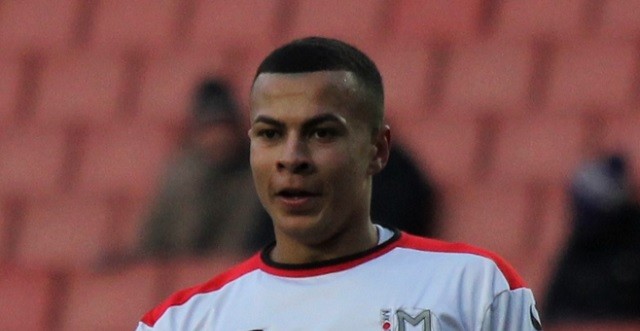 It was a sensational goal from a sensational talent.
In the dying moments of Saturday's match that saw Tottenham Hotspur go from unlucky to be down at the half, to lucky to be level with Crystal Palace, Dele Alli left everyone at Selhurst Park breathless.
The 19-year-old scored an absolute stunner in the 83rd minute to put Tottenham ahead 2-1 and secured three vital points for a team currently in the race for the Premier League Title. With Man United losing to Southampton and Man City drawing to West Ham, it was a crucial goal that now has Spurs sitting ahead of Manchester United by five points and only two points behind Manchester City.
The execution from Alli was absolutely world class. An overhead flick over defender Mile Jedinak, and to hit the ball one time on the volley right into the bottom left of the goal with such precision. That goal was no fluke, he knew what he wanted to do when he swiveled around to hit the ball. Words don't do this goal justice.
Juggle over a defender, spin, volley. ??? doesn't even do justice to this @Dele_Alli goal: https://t.co/e1EZKlDOTj

— NBC Sports (@NBCSports) January 23, 2016
England manager Roy Hodgson, who was attending the match at Selhurst Park, couldn't help but crack a smile as the Englishman sent Spurs ahead with six minutes remaining and left Eagles' supporters absolutely flabbergasted with what they just saw.
Hodgson wasn't the only one who was impressed with Alli's goal.
What a goal that is! Dele Alli ??

— Gareth Bale (@GarethBale11) January 23, 2016
What a Beautiful goal from Dele Alli ! A piece of Art ! ?

— Glenn Hoddle (@GlennHoddle) January 23, 2016
Alli's incredible journey continues and he's truly living the dream right now. To think just a year ago he was playing League 1 football and now he has an excellent chance to be in Roy Hodgson's squad for Euro 2016 this summer is unbelievable.  And to top it all off, he's just 19 years of age.
Dele Alli. Take a bow, son. It's your moment.