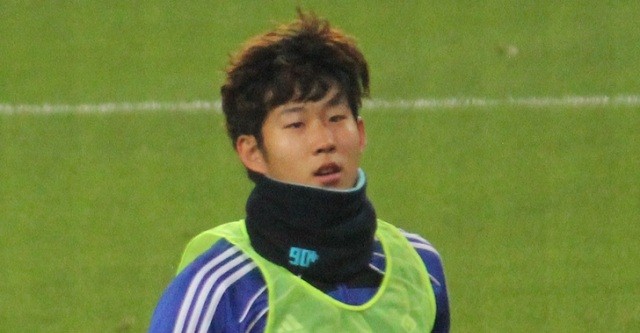 Tottenham Hotspur look to wrap up what has been a strong week for the Lilywhites as they travel across London to Selhurst Park on Saturday to take on Crystal Palace.
Alan Pardew's side have struggled since the Christmas break failing to pick up a win in all competitions in close to a month. Spurs on the other hand are coming off of a strong showing against Leicester City in the FA Cup. Coming away with anything less of three points from this match would be a disappointment.
With that being said Crystal Palace is going to incorporate similar defensive tactics that Spurs and manager Mauricio Pochettino have been seeing. They'll have there defence very deep and playing narrow, hoping to hit Spurs on counter-attack.
No club has truly grabbed hold of that first place position in the Premier League and Tottenham could possibly narrow that gap between them and the clubs ahead of them.
Heres the lineup I think Pochettino will be going with.
Goalie
Hugo Lloris – Backup Michel Vorm showed "hugoesque" moments against Leicester on Wednesday, but the captain will be in net on Saturday.
Right Back
Kieran Trippier – Right now with all the matches in a short span of days Pochettino seems to be rotating his fullback pairings. Trippier has been brilliant his last couple of matches and is always a threat on that right flank since he's an excellent crosser of the ball.
Centre Back
Toby Alderweireld and Jan Vertoghen – Both Alderweireld and Vertoghen should be well rested after sitting out the previous match and will make it difficult for Crystal Palace's attack. Goals are something the Eagles have struggles to come by as late. So much so they're considering a deal with Emmanuel Adebayor. That sentence should explain exactly what kind of offence they're up against.
Left Back
Danny Rose – Again similar idea here with Pochettino rotating the fullbacks. Rose should get the start and will probably be going up against Wilfred Zaha.
For the counterattacking system for work for Pardew's side they're going to probably leave a winger slightly forward. Both fullbacks will have to be aware of this, both offensively and defensively.
Centre Defensive Midfielders
Eric Dier – Dier dropped back into his natural role as a centre back against Leicester but he'll again be the starting holding midfielder on Saturday, a position he's really starting to grow into.
We've been relying heavily on Dier this season, so if we grab an early lead and look to be dominating the match, I wouldn't be opposed to Dier coming off early in the second half and giving Nabil Bentaleb another go.
Mousa Dembélé – Dembélé made an immediate impact during his return against Sunderland, netting what ended up being the winning goal, and dominating the midfield. Palace will most likely have Yohan Cabaye at the 10 spot, and Dembélé will make it difficult for any Palace attack to formulate in the middle of the pitch.
Centre Attacking Midfielders
Attacking left
Christian Eriksen – Eriksen and Pochettino recently talked regarding his lack of starts at the No. 10 position. He will be out on the left flank to start the match, but Eriksen does drift into the center a lot.
Mostly he drops deeper into the centre of the midfield to make things happen from a creative standpoint in the midfield, something that doesn't get generated a ton by Dier and Dembélé. Him and Alli also could switch if Spurs also a struggling generate anything in Crystal Palace's third.
Centre Attacking Midfield
Dele Alli – It was good to see Alli get some rest last match. The youngster should be fully ready to continue his fantastic campaign.
Attacking right
Son Heung-Min – Son was brilliant in the FA match against Leicester, scoring an absolute cracker and also setting up Nacer Chaldi's goal, which was the nail in the coffin for Leicester. Son showed immense confidence last match, and I think he should get the start solely to build on that. We've seen what Son can do earlier in the season when he's on a great run of form.
Pochettino should reward the South Korean's efforts with the start in place for Erik Lamela. The Argentine though has been brilliant for Spurs also and could be hard for Poch to replace. If that's the case Son should be the one of the first off the bench in place for one of the attacking Midfielders.
Striker
Harry Kane – 
Eagles goalkeeper Wayne Hennessey is currently under tremendous pressure after failing to perform in recent matches. Things won't get better for the Welshman, whose been prone to making errors, as he's going up against one of the best strikers in the Premier League.
Spurs should grab the win in this contest, as chances of Europa League next season slowly slip away for Crystal Palace.
What your best lineup for Spurs and what do you think the result will be?
(4-2-3-1)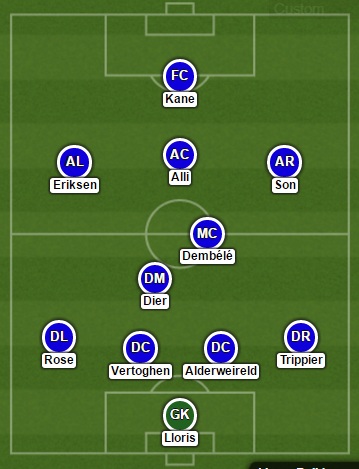 Via – Lineup Builder