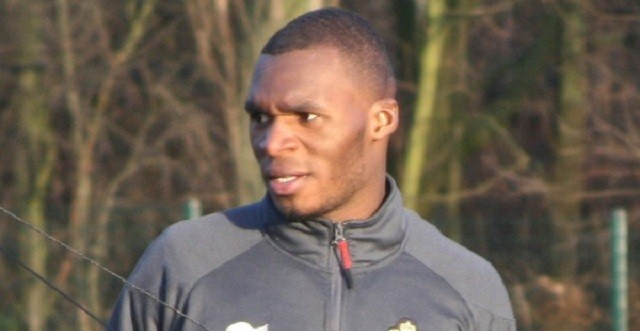 With an emphatic 3-0 victory over Exeter City, the Liverpool youngsters showed the more senior players how it's done. Even if their opponents were a part of League Two, the young players channeled the energy of Anfield and dominated the match. That type of confidence is what the first team is missing and it is something Jurgen Klopp needs to instill in his squad.
Even if many of the players may feel a little discouraged after the 1-0 defeat to Manchester United, a match they should have won, they have a chance to get the season back on track as they travel to Norwich on Saturday. The team has been playing well in big matches but if they want to get anywhere near the top four, they need to win against clubs that are below them in the table.
Goalkeeper
Simon Mignolet has been able to hold off Danny Ward so far since the Welshman's return but the Belgian still has to prove that he is worth the long-term deal he recently signed. Klopp has remained confident in the inconsistent Mignolet so far but that has not been reflected into his play on the pitch.
Right-Back
Nathaniel Clyne is solid while defending but he really needs to be better when he attacks to be truly effective. He just doesn't look that confident when he has the ball for an extended period of time.
Center-Backs
Kolo Toure and Mamadou Sakho should be able to hold off the Norwich attack, they just need to perform the same way they did in the last match. Toure looks young and spry in his appearances, the one thing he needs to do is take control of the defense, he is by far the most experienced player on the squad. Dejan Lovren could be healthy enough to start but Klopp may decide against that given the recent injury crisis that has hit the team.
Left-Back
Alberto Moreno has arguably been Liverpool's best, most consistent defender this year. While he isn"t the best in terms of skill, he is a constant outlet when the Reds have the ball and he surprisingly doesn't get caught too far up the field.
Midfield
The three-man midfield of Jordan Henderson, Emre Can and James Milner will provide their usual energy but they need to provide more creativity to improve the team. Henderson had a lot of shots against Manchester United but most, if not all, of them were very wide. Can is improving rapidly, he just needs to be a little more in control of the match. Milner's workmanlike style on the field is 
Right Wing
Jordon Ibe's speed should pose a problem for the Norwich defense. He has to get rid of his selfishness as well as his predictability in order for him to improve. Every time he gets the ball, defenses know that he is easy to dispossess so they just need to wait for him to make a mistake.  
Forward
Roberto Firmino seems like he will start again despite the better performance of Christian Benteke in the match against Exeter. If he can score two goals against a good Arsenal defense, Firmino should be able to get one in this weekend.
Left Wing
Adam Lallana has stated that he wants to be better for Liverpool in terms of putting up more actual statistics but he didn't show any of that intent in the last match. He has to be a better player, he can't just be someone who works hard and runs a lot, there needs to be a proper end result to the things he does.
(4-3-3)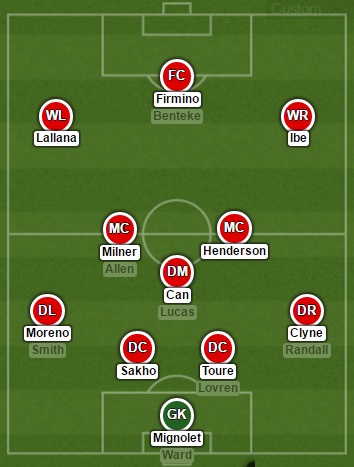 Via – Lineup Builder