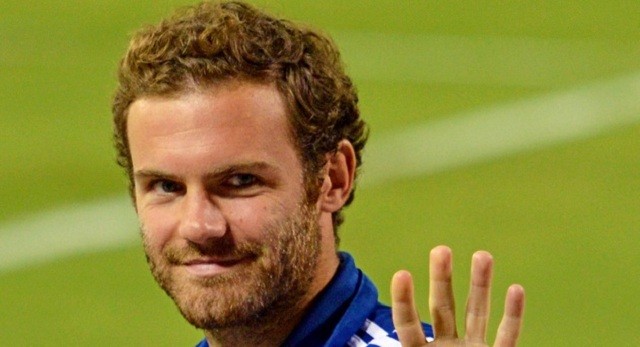 Manchester United will have some tough tasks jumping off a massive Liverpool victory. Southampton have won their last two game at a combined 5-0, but United returning home should make for an interesting matchup.
Goaltender
David De Gea returned to his spectacular form in the win versus Liverpool. Two key saves on Emre Can and James Milner kept United in the game before Wayne Rooney buried his first Anfield goal since 2005.
Right-Back
Matteo Darmian has been given the opportunity to assert himself the way he did early in the season and will need to be much better at his traditional right-back position.
Left-Back
Cameron Borthwick-Jackson had an incredibly promising game in his first Liverpool rivalry match where he replaced the injured Ashley Young. The 18 year-old left-back showed maturity while keeping wingers to the outside and sprinkled in some offensive flare with a quality run to the goal. He will need to improve his aerial game in their own box if he wants more consistent playing time.
Chris Smalling has not been the dominant force in the last couple weeks which we are coming to expect and his task will not become any easier against the big Italian international, Graziano Pelle. Expect a very physical game from Smalling.
Daley Blind will be the second center-half while McNair, Jones, and Rojo continue recovering from injury.
Midfield
Morgan Schneiderlin and Ander Herrera will likely feature in a a holding midfield role this Saturday against Southampton. Despite injuries, Manchester United's midfield still features quite a bit of depth making for a difficult decision for Van Gaal.
Bastian Schweinsteiger may be eligible, but like Michael Carrick, is unlikely to return. Fellaini really struggled moving the ball against Liverpool; however, he was crucial in United's only goal at Anfield. Moving Herrera deeper will take some offensive pressure off the fan favorite and will free him to make stronger forward passes than Fellaini.
Center Attacking Midfield
Juan Mata has been subjected to the bench for a few weeks and hopefully the message has been heard. Mata has been predominately ineffective at wing due to his lack of game breaking pace, but he is also too talented to be on the bench.
Right Wing
Jesse Lingard will likely get one more chance to return to his pre-injury form before returning to the bench. He has been chasing the play and hardly spent any time on the ball at Anfield. Memphis Depay may be the better option at this point, but I believe the Van Gaal is being very firm with his message to young Dutchman that he is not entitled to anything at Old Trafford. 
Left Wing
The mystery of Martial's strongest position continues. He does not offer the necessary physicality to be a day-to-day EPL striker, but can finish incredibly well in tight space. Conversely, he is just as dangerous with space which he finds more of on the wing, but without a blistering shot you wonder if he could be a full time winger.
In Wayne Rooney's recent form, Martial will be subjected to the left-wing.
Striker
For now, Wayne Rooney's will stay at striker as long as he is scoring.
(4-2-3-1)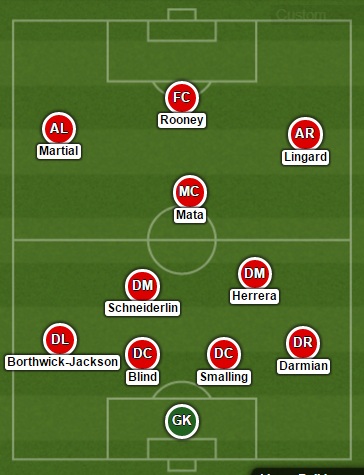 Via – Lineup Builder