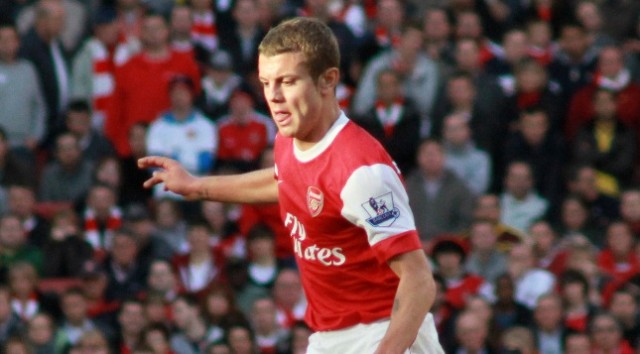 Jack Wilshere has yet to play a game for Arsenal this season due to a leg injury, but Arsenal fans can expect to see much more of the English midfielder over the next five years.  It has been reported that Jack Wilshere has agreed to a new contract with the Gunners that will keep him with the club until 2021.
Wilshere was previously earning £90,000 per week, but he will now be receiving a £20,000 raise despite not playing in a single game yet this season.  The deal will run for the next five-and-a-half years, and it will cost Arsenal a total of £31.5 million.
Wilshere had a breakout season for Arsenal in 2010-2011 as a 19 year old and he looked like an extremely promising player, but due to his recent injury history this does look like a risky signing.  If Wilshere is able to stay healthy this will likely prove to be a good signing for Arsenal, but it seems that he may never get over the injury bug.
After a strong 2010-2011 for Arsenal, Wilshere missed the entire 2011-2012 season due to an ankle injury.  He again dealt with injuries over the next few seasons playing 25 Premier League matches in the 2012-2013 season, 24 matches in the 2013-2014 season, 14 matches in the 2014-2015 season, and then playing 0 matches so far in the 2015-2016 season.
Overall Wilshere has played in only 63 English Premier League matches out of a possible 174 over the past 4 and a half seasons.  This means that Wilshere has only appeared in 36% of Arsenal's league games following the 2010-2011 season.  This is obviously an extremely terrible percentage over a relatively long period of time (as far as soccer careers go at least).
Wilshere's injury history is very concerning, but he is still only 24 years old, and he has proven to be a solid player when he is able to stay on the field.  He was once considered one of the future stars of English soccer, and if he can finally get healthy he may be able to live up to this new contract.