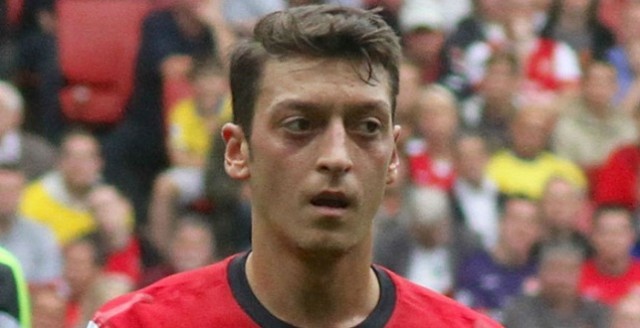 Arsenal and Chelsea will face each other Sunday at the Emirates in what will be the third match between the two clubs this season.
Arsenal were the victors in the first meeting as they defeated Chelsea 1-0 in the Community Shield. Chelsea won the second matchup 2-0 in what was a contentious affair with Gabriel being sent off and Diego Costa given a three-match ban for his antics in the first half.
Despite Chelsea's poor form this season, this is historically a difficult match for Arsenal. Arsene Wenger believes this is an opportunity for the club to show they've made progress this season.
"It is another one where we can show we have moved forward. It is another game where people look at us and see how we behave because even if Chelsea are not in the best position, you look at their squad."
Arsenal have a tough away schedule the second half of the season. They play at Manchester United, Tottenham, Everton, West Ham, and Manchester City to end the season. Wenger highlighted the importance of winning the tough games at home.
"It is a big game because of the quality of players on the pitch and it has a big importance to us because we play at Emirates Stadium and we know it will be important to win these types of games."
There is plenty of good news in terms of the injury front ahead of this weekend. Mesut Özil and Alexis are both fit and will participate this weekend. Özil will start, however, Alexis will likely find a place on the bench, as Wenger wants to minimize Alexis' chances of suffering a setback.
Francis Coquelin is ahead of schedule and back in full training, as is Tomas Rosicky who is due to take part in a Under-21 match on Friday. Danny Welbeck will start training with the first team next week, and Jack Wilshere is on track to be available at the end of February.
Here is Arsenal most probable staring lineup against Chelsea on Sunday.
Goalkeeper – Cech
Petr Cech will hope to carry over his form from last weekend where he pulled off a string of excellent saves to keep Stoke City goalless.
This will be his third match against his former club, although not everybody remembers he made the transfer this summer. Adidas sent Cech's new gloves to Chelsea's training ground, forcing the goalkeeper to pay a visit to his former club.
Right Back – Bellerin
Hector Bellerin will face the challenge of containing Pedro. Bellerin's speed will serve him well against his Spanish compatriot. The young right back has grown this year to be one of the best right backs in the Premier League.
Center Backs – Mertesacker & Koscielny
Last time these two teams met, Laurent Koscielny and Gabriel had trouble dealing with the physical and mental challenge that Costa presents. There is a chance the Spanish striker is held out of the squad due to a shin injury from last weekend. However if Costa starts, the combined experience of Per Mertesacker and Koscielny should be better equipped to handle the striker.
Left Back – Monreal
Nacho Monreal will have to deal with the tricky Willian. The Brazilian international has been Chelsea's best player this season. On the other hand, Monreal has been Arsenal's must consistent and reliable defender. This is a matchup to keep on eye on and will make for an interesting battle this weekend.
Defensive Mid – Flamini
Mathieu Flamini starts in defensive midfield once more. Mohamed Elneny is not ready, nor is it clear that Wenger believes he is a clear cut holding midfielder.
The past few games have exposed a few weaknesses in Flamini and Aaron Ramsey's partnership. There are defensive spacing issues between the two and both players lack the ability to distribute the ball often and well.
The sooner Coquelin is available for selection, the better.
Center Mid – Ramsey
Ramsey will look to control the midfield on Sunday. He's performed well from a central position this season and could prove to be a nuisance against Chelsea's underperforming midfield.
Ramsey's defensive work rate has been poor the past few games and it must improve this week. In what is a derby game against a top team, despite their place in the table, there is no space for lapses in defensive commitment, especially in the middle of the field.
Attacking Mid – Özil
Özil makes a return to the first team after sitting out last weekend's match with a toe injury. It's possible that Wenger purposefully left Özil out against Stoke in an effort to shield the player from what is usually a physical matchup.
The week and a half off my have allowed Özil to regain freshness after he seemed jaded against Liverpool in his last appearance.
Özil needs to be on his game this weekend. These are the types of matches this season that Özil has had a significant impact and a similar performance is expected.
Wide Right – Campbell
Joel Campbell has usurped both Theo Walcott and Alex Oxlade-Chamberlain in the pecking order, and the Costa Rican international will partner Alexis when the Chilean is fit to start again.
Campbell's defensive work rate will be imperative to Arsenal's success this weekend. His eye for picking out a pass the past few weeks has been a welcome addition to his game and we may see that on display again this weekend.
Wide Left – Walcott
Alex Iwobi replaced Walcott in the 72nd minute last weekend after the 26-year old put in a disinterested display. The Englishman showed no interest in fulfilling his defensive responsibilities, nor did he provide any sort of outlet on the left wing. He constantly found himself making runs into the middle of the pitch where he was crowded out and rendered useless.
When Wenger put on Iwobi, Arsenal played with more width and looked dangerous on the left wing. Walcott for his part, looked disgusted when he was replaced, however, if he wants to stay on the pitch he has to fulfill his responsibilities on the left.
Having said that, Walcott is a player who has much to offer to the club, something that has been acknowledged frequently by his manager. Despite his performance last weekend, he will start on Sunday, mostly because Alexis is not yet ready to start a match.
Striker – Giroud
Olivier Giroud is having his best season to date with Arsenal. He has 18 goals in all competitions and is on course to score 20 in the league. He has stepped up in the big matches when called upon and score a number of important goals.
He will have a battle on his hands this weekend as he matches up with John Terry and Kurt Zouma. Both are players who are good in the air and keeping players in front of them. Giroud lacks pace, which plays into the strengths of Chelsea's defense, however, if Giroud can win his individual battles, he should fair well on Sunday.
(4-3-3)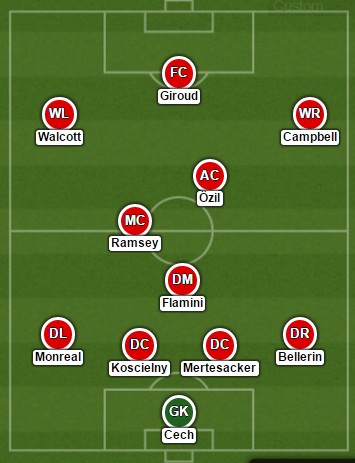 Via – Lineup Builder