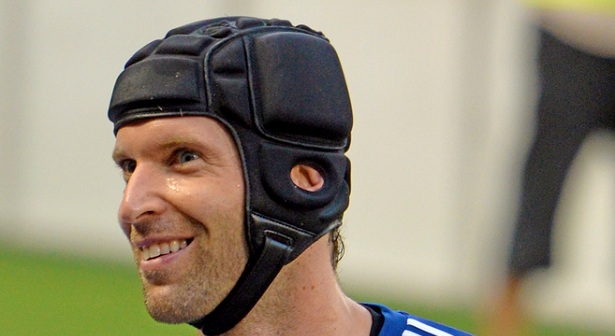 After Petr Cech put in a man of the match display against Stoke City, two of his teammates heaped praise on Arsenal's lone summer signing.
Cech made five saves and dealt well with a barrage of corners and crosses on Sunday in a gritty draw at the Britannia Stadium.
The Czech international made an excellent double save in the second half when he pushed a Joselu shot wide, and made a diving save to smother the ball as Bojan attempted to slot home on the rebound.
Cech did well again after Aaron Ramsey cleared a headed shot from the line off a corner and the clearance led to a low driven shot that the goalkeeper saved with an outstretched foot.
Cech's performance secured a difficult point for Arsenal and added a tenth clean sheet to his league-leading tally for the season.
After the match, Hector Bellerin applauded Cech's performance and labeled his teammate as the best goalkeeper in the league.
"They were great saves and it is very important to have a solid goalkeeper and Petr Cech is one of the best. I think he has given us that confidence at the back.
"It helps that this is a solid team defensively [that] has played a lot of teams together, and that you have probably the best goalkeeper in the league playing for you."
Theo Walcott was equally praiseful of Cech, claiming he's lifted everyone in the squad and instilling mental strength at the club.
"The mental strength in our dressing room is the strongest it has ever been. When you have the likes of Petr Cech coming in as well, he only enhances that.
"We just have to look at him because he has been at the top level and won many things so if we have the belief that he has got, we can push on."
Walcott gave an example of the effect that Cech has had at the club by pointing out how the goalkeeper ensured the squad kept their heads up and look at the result at Stoke as a positive.
"He has lifted everybody's heads up, saying this is a very good point and that nobody tends to win here.
"All the big teams that have come here have struggled, with Stoke getting positive results. There were mix emotions in the dressing room, but it is probably a fair result."
Cech's experience and class will be on show again next weekend when Arsenal face the goalkeeper's former club Chelsea.
This will be the third meeting between the two clubs this season. Arsenal won the Community Shield 1-0 in the first match and Chelsea won the second 2-0 at Stamford Bridge in what was a highly controversial match.
https://www.youtube.com/watch?v=JoIzX9sGJqg