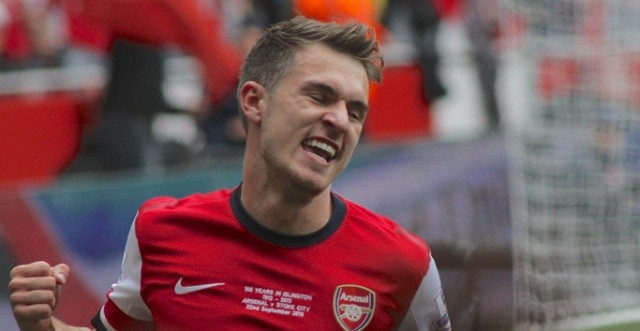 Despite currently sitting in first place in the English Premier League, Arsenal have only made a single acquisition so far during the January transfer window.  And to make matters worse for Arsenal fans there are reports that they could soon be losing one of their most important players.
Barcelona are reportedly in pursuit of Arsenal midfielder Aaron Ramsey, and the Spanish club believes there is a realistic chance that they can steal the Welsh international from the Gunners this transfer window.  
Barcelona of course have a history of acquiring Arsenal midfielders, as they have bought Alex Song and Cesc Fabregas from the club in recent years.  Adding Aaron Ramsey to that list over the next few weeks would be devastating to Arsenal fans, as the sale of Ramsey would put a serious dent in the team's title chances.
Aaron Ramsey ranks 6th on the team in minutes played this season in Premier League matches, he ranks 2nd in passes attempted per game, and he is one of the more accurate passers on the team with a completion percentage of 86.2%.  He also averages 1.5 key passes per game ranking 4th on the team in that category and further proving that he is a vital part of the Arsenal attack.
Ramsey's offensive contribution is very important to the success of Arsenal, but his defensive contribution is possibly even more crucial.  Ramsey is averaging 2.2 tackles (4th on the team) and 1.8 interceptions (6th on the team) per game this season.  His defensively abilities would be sorely missed if he were to leave.
Barcelona are reportedly willing to pay a healthy sum of £50-60 million for Ramsey, but no matter how high the offer is Arsenal should not sell one of their most talented players when they are in the heat of the English Premier League title race.
https://www.youtube.com/watch?v=qxxqtk95PNM
Ramsey is not a particularly flashy player, but he contributes both offensively and defensively in the Arsenal midfield.  He would be a strong asset to any team, and this is why he is being heavily pursued by the Spanish superclub Barcelona.
The transfer window has been less than exciting so far for Arsenal fans, as the team as only acquired Mohamed Elneny up to this point.  For a club that has not won a Premier League title in over a decade, it would truly be a disaster if they were to sell Aaron Ramsey when they were finally in first place.