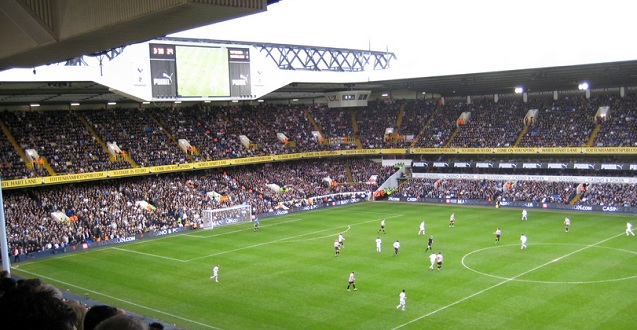 White Hart Lane and Spurs' supporters were stunned as Tottenham Hotspur lost against Leicester City in the final minutes, after dominating most of the match. Spurs look to bounce back from the devastating loss as they take on Sunderland this Saturday at White Hart Lane.
The Black Cats have been struggling this season and currently are facing relegation. Spurs desperately need a win on Saturday so I believe Spurs' manager Mauricio Pochettino will still be playing most of the first team. The Premier League and the quest for Champions League football should still be their first priority despite a must win match four days later to stay in the FA Cup.
Tottenham have failed to grab a win in January and this is a must win game for them as the teams ahead of them start to push away and the teams below them start to get closer.
Defence
Goalie: Hugo Lloris – Lloris was solid in net against Leicester City despite not having a clean sheet. The Frenchman made some tremendous saves throughout the match and will be in net against Sunderland.
Right Back: Kyle Walker – Even though he had one terrible turnover in the match against Leicester, Walker was and still is an important part of generating offense from the right flank. However Poch could go with Kieran Trippier so that Walker is fully fit for the FA Cup match against Leicester.

Centre Backs – Toby Alderweireld and Jan Vertoghen – Vertoghen was phenomenal against Leicester  while Alderweireld was out-shined by his Belgian partner and overall had a rather poor performance. Former Tottenham player Jermain Defoe netted a hat-trick in his last match and has been in great form recently. They should be able to shut him down though.
Left Back: Danny Rose– It looks like Ben Davies and Rose are alternating every match, Rose being more of an offensive threat than Davies and Davies being more of a consistent defender. Rose should get the start against the Black Cats with Davies being saved as it's expected he'll be going up against Riyad Mahrez again in the FA Cup clash.
Midfield
Eric Dier – Dier was his same old consistent self on Wednesday against Leicester and should continue his brilliant form this season on Saturday. His fitness could come to question as he's been used a ton this season, but I think he'll be ready to go.
Mousa Dembélé – Dembélé returning from injury is great news for Spurs. He's a physical presence in the midfield, something that Tom Carroll, who was starting while Dembélé was out, lacks. If Pochettino leaves him out of the match for precautionary reasons, Carroll should start. Spurs need to win though, so Dembélé should go.

Attacking left – Christian Eriksen – The Dane was subbed off in what many seemed was a questionable move by Pochettino. Despite not having his best season, he's still a talented playmaker who will find his form soon.
Attacking right – Erik Lamela – Besides failing to finish off two great chances, Lamela was still the best attacking player for Spurs. The Argentine is still very much one-footed but when he's playing he's always creating chances and is a threat defences need to monitor.
Centre attacking mid – Dele Alli – The English youngster will look to continue his fine run of form this season against a Sunderland defence that's been questionable at times.
Attack
Striker – Harry Kane – The striker was held at bay for most of the match against Leicester but his midfielders didn't create a ton of chances for him. The Englishman will hope to find the back of the net against a struggling Sunderland side.
What's your best lineup for Spurs and what do you think the result will be?
(4-2-3-1)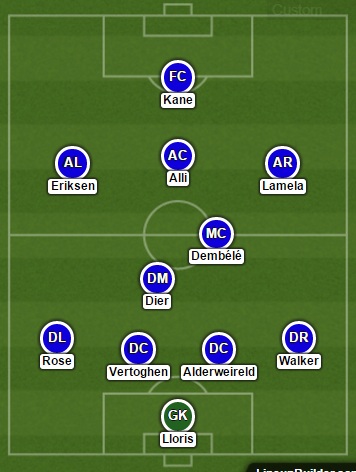 Via – Lineup Builder