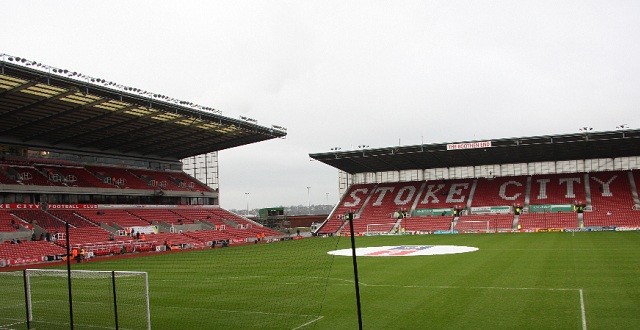 Arsenal faces a difficult task at the Britannia Stadium when they play Stoke City on Sunday.
The Gunners have failed to secure a victory at the Britannia since 2010. Last season, Arsenal lost 3-2 after a dismal defensive display that saw the Gunners fall into a 3-0 hole early on. After the match, Arsene Wenger was infamously accosted by a group of Gunner fans at the train station.
Speaking to the press before this weekend's match, the manager took last season's incident in stride.
"I didn't take it personally. It was my function, and the fact that I am responsible for the results of the club, that was attacked, not so much my person. I was more sad and upset by the result than the individual reactions of people."
The manager stated the team will travel by train again and that he welcomes contact with Gooners.
"We travel in what we think is the best and the shortest way. You want as well not to be isolated too much because you want contact with people who love the club, you want contact with the fans."
On a more serious note, the manager believes Sunday's match is an opportunity for the squad to prove their title credentials, especially after Wednesday's 3-3 draw that saw the Gunners concede a 90th minute equalizer to Liverpool.
"We have to show that we have made a big step forward and can beat them.
"It will be a similar test to Liverpool and we'll need the same intensity and the same desire and focus again … the consistency of your focus and determination will play a big part in the outcome of this league."
Wenger confirmed that new signing Mohamed Elneny is eligible on Sunday although the manager has yet to decide how much the player will be involved. Alexis is another player whose participation on Sunday is to be determined, with fitness tests due to take place on Friday and Saturday.
Tomas Rosicky is unlikely to feature despite making a return to full training. The manager wants to give the experienced a midfielder a few games, likely with the Under-21's, before reintroducing him to the first team.
Wenger will have a few interesting decision to make this weekend. The midfield is unbalanced with Mathieu Flamini and Aaron Ramsey playing together. The amount of passes completed per game is down, as are interceptions made, tackles, and shots on goal with this midfield partnership.
Elneny seems like the immediate solution, however, it is easy to get caught up in the idea of a new signing making an instant impact. Many have touted Elneny's passing and tackling ability, but it could be difficult for the player to immediately integrate into the squad, let alone a physical league like the Premier League, after training with the team two or three times at most.
At the same time, throwing Elneny into the squad, and Alexis for that matter, could help the player integrate into the squad quicker, and prepare him for what is always a difficult match against Chelsea.
What Wenger chooses to do on Sunday will not tell us anything about how he feels about Elneny. The manager clearly holds the player in high esteem after revealing the club has tracked him for over a year and touting the Egyptians qualities as a complete midfielder.
Considering the way Arsenal's midfield played on Wednesday, Wenger is likely to make some changes, be it tactical or squad selection.
Here is Arsenal's most likely starting lineup against Stoke City on Sunday.
Goalkeeper – Cech
Petr Cech will be disappointed to have conceded three goals during the week. He was largely not at fault for any of three, although it would not have been a surprise if he had saved the first or third considering his quality.
Cech dealt with 22 shots, 12 of which were on target. Since Ramsey and Flamini started forming the midfield partnership, Arsenal have allowed 15 shots per game, five more than before Coquelin was injured.
Right Back – Bellerin
Hector Bellerin's performance dipped slightly on Wednesday compared to his masterful display last weekend. He seemed a bit jaded and had difficulty getting forward at times.
Stoke City will likely be without Xherdan Shaqiri and Marko Arnautovic, both of whom are suffering from hamstring injuries. Their absence is a huge blow and could allow Bellerin to get forward with more freedom.
Center Backs – Mertesacker & Koscielny
Ramsey marauded forward and failed to track back too often, which left Per Mertesacker and Laurent Koscielny exposed for much of the match on Wednesday. That will have to change, and maybe the defensive duo needs to show their leadership qualities by challenging Ramsey to uphold his defensive duties.
Calum Chambers and Mertesacker partnered up in defense the last time these two teams met at the Britannia. The experience and understanding between Mertesacker and Koscielny will be vital in what is also a testy match between these two teams.
Left Back – Monreal
Nacho Monreal was Arsenal's best defender on Wednesday and handily dealt with the threat of Jordan Ibe. The Spaniard will have to deal with Ibrahim Afellay whose promising career has been derailed by injuries.
Defensive Midfield – Flamini
The manager will opt for Flamini as it seems a little soon to throw Elneny in the starting lineup. It is unlikely Flamini will continue his run in the first eleven, though, as Elneny is clearly set to become an involved player. In the mean time, the Frenchman will have to hold down the holding midfield role for one more match.
Flamini started the last time these two teams met at the Britannia, although he ended the match as the right back because Chambers was sent off and Danny Welbeck replaced Bellerin at half time.
Central Midfield – Ramsey
Ramsey had shown defensive discipline in the past few matches, but that all went out the window on Wednesday. The Welshman left too much space between himself and Flamini throughout the match and constantly exposed his back four.
It is vital that Ramsey recovers in time when he makes runs forward because Mesut Özil will not cover for him. It was unsettling to see Ramsey next to either Olivier Giroud or Özil when Liverpool had possession in Arsenal's half.
Ideally, Mikel Arteta would be the preferred partner with Ramsey, because of the Spaniards passing abilities and positional astuteness. Fitness issues prevent Arteta from being a viable option in the starting eleven for the time being.
Attacking Mid – Özil
Özil was a peripheral figure on Wednesday with Liverpool's pressing game and ability to move the ball about quickly taking the German out of his rhythm and the game.
Hopefully, the rest Özil was provided over the weekend didn't break his good form, although in a match where Arsenal is likely to enjoy more possession, the German should put in an affective display against Stoke.
Wide Right – Campbell
Joel Campbell was one of Arsenal's better performers on Wednesday. He assisted Ramsey for Arsenal's first goal and was involved in their third. His defensive performance was the most impressive aspect of his game on Wednesday. He completed 5/6 tackles, mostly in Arsenal's half.
Based on form, Campbell is likely to be Wenger's preferred choice on the right wing once Alexis is fit enough to start.
Wide Left – Walcott
Theo Walcott will start on Sunday, as Wenger seems to be handling Alexis' injury cautiously.
Walcott was responsibly for Liverpool's first goal as he lost possession in his own half on an ill advised dribble attempt.
Wenger praised Walcott's development and believes the player is capable of more as he enters his peak years.
While Walcott is undoubtedly a world-class finisher, his decision-making is suspect at times and that was plainly obvious on numerous occasions on Wednesday.
Once Alexis is fit, Walcott will return to the bench and be used to change the pace of matches late on. He will also serve as the backup striker, which is welcome considering Giroud has played a lot of matches since November.
Striker – Giroud
Giroud put in an excellent display on Wednesday. His first goal came off a whipped-in corner where he was able to just get a touch on the ball that squirmed through Simon Mignolet's legs.
His second goal came off a masterful turn that tripped up Kolo Toure, before he curled in a left footed shot in the left bottom corner.
Giroud has 12 goals in 15 Premier League starts this season. That puts him in fifth in the league's scoring chart, three less then league leader Jamie Vardy, one more than Harry Kane, and four more than Sergio Agüero.
In fact, Giroud has more goals than all of the strikers at Manchester City, Chelsea, Liverpool, and Manchester United. Talk of Giroud not being a top class striker is far-fetched, outdated, and lazy.
(4-3-3)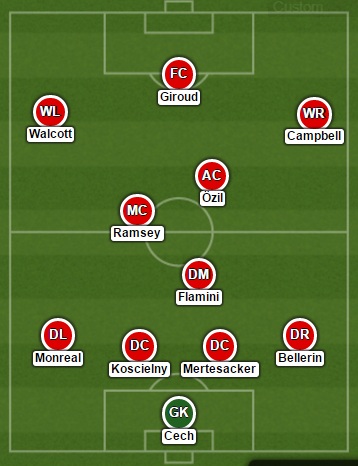 Via – Lineup Builder