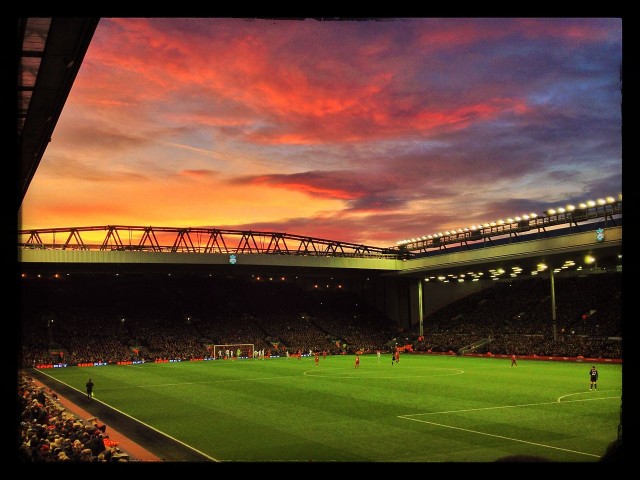 In the last match against against Arsenal, a 3-3 draw, Jurgen Klopp and Liverpool produced a performance that proved that the team has what it takes to be contenders in the Premier League. It was a display that showed a lot of heart and determination, it also should give the players some confidence for the rest of the year.
That confidence should carry itself into the club's next match, a home meeting with rivals Manchester United. Even if both teams are not at their best, it is still a huge match. Given their strong performance the last time out and the injuries that continue to plague the team, Klopp probably won't change the team's lineup too much.
Goalkeeper
The goalkeeping struggles continue for the Reds. Simon Mignolet probably won't lose his place for this match but the presence of Danny Ward on the bench should encourage him to play better. While the United offense has not been great for much of the season, it has picked up in recent games and they will definitely create a few chances.
Right-Back
Nathaniel Clyne's consistency has been great for Klopp since he doesn't have to worry about any danger coming from the Englishman's flank. Clyne will mark either Jesse Lingard or Memphis Depay but his experience and overall talent should allow him to shut them down.  
Center-Backs
Kolo Toure and Mamadou Sakho will have yet another difficult task this weekend as they face an on form Wayne Rooney. While he is not the player he once was anymore, Rooney has now scored in three consecutive games and he netted a brace against Newcastle. Sakho has not been at his best recently but he needs to find the form he was in before his injury.
Left-Back
Alberto Moreno will actually have the more difficult assignment on Sunday since he will likely be marking the dangerous Anthony Martial. Because Martial is such a menace, Moreno will have to be more aware of the times he ventures forward, he can't afford to get caught too far up the pitch.
Midfield
Once again, the midfield will be an extremely important part of the match. While they are not the most creative players on the field, Jordan Henderson, Emre Can and James Milner are hard-working and their energy should bother the opposing midfield. They will dictate how well the Reds play, if the three pass effectively and control the tempo of the match, Liverpool should be able to pull out a victory. If not, another 3-1 loss could be on the cards.
Right Wing
Jordon Ibe was frustrating once again but given the injury crisis that the Reds are facing, he might get another start on Sunday. He always seems to lose the ball right before he puts a cross into the box and if he continues to be the same player against United, Matteo Darmian won't be bothered at all.
Forward
Roberto Firmino finally showed his full potential with two spectacular goals against Arsenal and there is no doubt that he is Liverpool's most dangerous player, especially with Coutinho still sidelined with injury. He will need to maintain his excellent play against an excellent United defense that has only conceded 20 goals this season.
Left Wing
Just like Firmino, Adam Lallana played very well in the last match. While he remains a frustrating player overall, he should be able to bother Ashely Young for much of the match with his movement and sheer effort.
(4-3-3)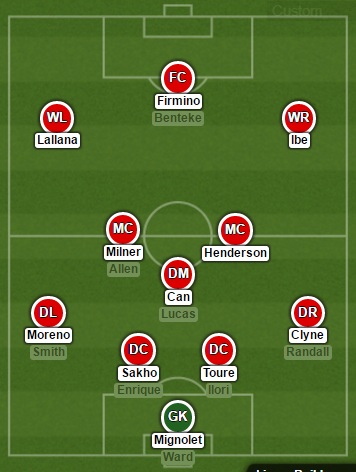 Via – Lineup Builder