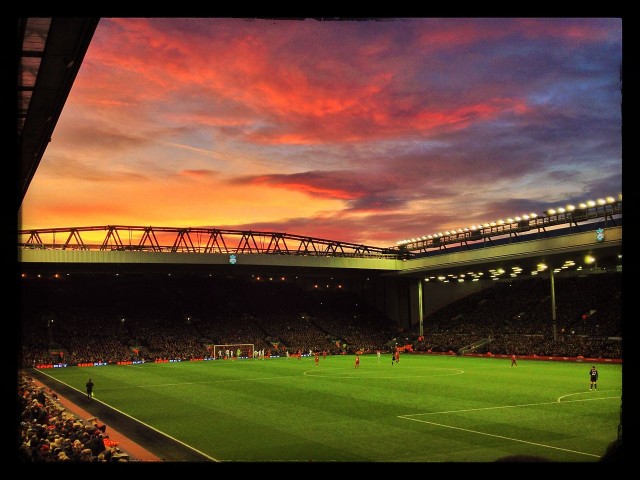 The nightmare just keeps on getting worse for Jurgen Klopp and Liverpool. The New Year has been terrible so far. Despite a decent performance in a 1-0 victory over Stoke, the Reds lost both Philippe Coutinho and Dejan Lovren to injury.
They join a host of players already sidelined with injury and Klopp was forced to recall a number of players from their loans just to allow him to rest many of his top guys when the club faced Exeter City in the FA Cup.
The schedule doesn't get any easier for the new manager since the team will be having a match every three or so days for the rest of the month. The first of this difficult run of fixtures is a match against Premier League leaders Arsenal. The Gunners come into the match in good form with only one loss in their last five games and they will be determined to solidify their place on top of the table with another victory in Anfield.
Goalkeeper
So, the only way Simon Mignolet is losing his place between the sticks is if Klopp signs a new player or Danny Ward proves to be as good as he has been for Aberdeen. Adam Bogdan's pure incompetence in goal shows that while Mignolet is far from the best goalkeeper in the world, he can at least catch a ball and is smart enough to know when to tap one over the bar.
Right-Back
Nathaniel Clyne should be really happy to play in this match since he won't be facing Alexis Sanchez but that means the speedy Theo Walcott will be lining up across the full-back. Clyne's positional sense and tackling ability should make the matchup easier but he has to make sure that Walcott doesn't have any opportunity to take a shot at goal.
Center-Backs
Klopp finally gets some much needed help now that it looks like Kolo Toure and Mamadou Sakho will be able to suit up for the next two matches. While they are not the ideal pairing in the middle of the defense, they are the best Klopp has right now. The two defenders benefit since Olivier Giroud prefers a more physical style and they don't really have to worry about losing a footrace against him.   
Left-Back
Alberto Moreno will likely face either Alex Oxlade-Chamberlain or Joel Campbell and he should be able to capably handle both wingers. Moreno's speed will allow him to match the two stride for stride, he also doesn't really have to worry about either of them
Midfield
The midfield will be the key in this match and it will be up to Jordan Henderson, Lucas Leiva and Emre Can to control the game. Lucas will have the most important job since he will likely be tasked with marking Mesut Ozil, Arsenal's most important player since Sanchez won't be healthy enough to participate.
Both Henderson and Can will need to make sure to retain possession and when the team losses, the ball, try to break up the Arsenal attack with some physicality and smart tackling.
Right Wing
Jordon Ibe might be able to make in time for the match and he will inject some much needed pace in the lineup. Ibe has been extremely inconsistent but since the team has a ton of injuries, he will have much more time to prove that he is better than what he has shown so far.
Forward
With Christian Benteke continuing to show complete apathy, Roberto Firmino should get another start up top. While he is not a natural striker, at least Firmino gets somewhat involved with his teammates and he even takes more than one shot the entire match.
The biggest problem with Firmino is that he never realizes that he is actually offside, that has led to so many promising attacks being stopped.
Left Wing
Adam Lallana will have to be the main creator for the Reds since Coutinho is out. He has all the tools to be a great creative force, he just needs to hold on to the ball longer and to be a lot more consistent.
He might be able to find some space to work with since Hector Bellerin loves to get forward in attack, Lallana just has to use the opportunities he gets well.
(4-3-3)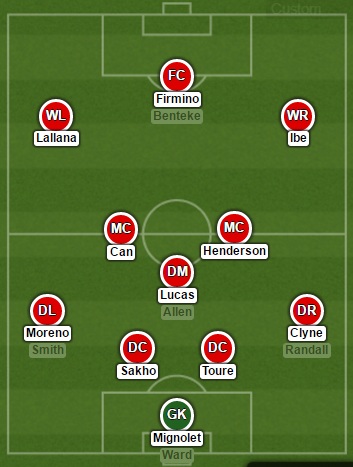 Via – Lineup Builder