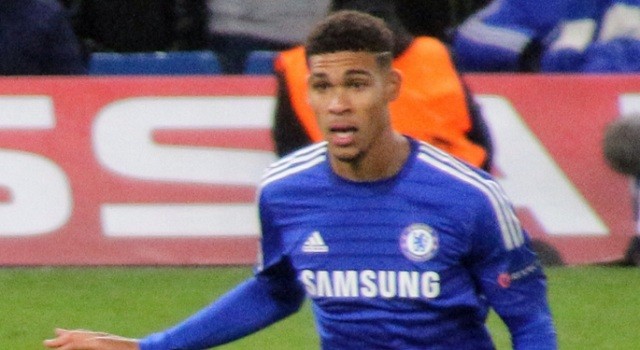 Chelsea started the 2015/16 Premier League season in horrible fashion, however, they've been doing greatly in their past few games.
Chelsea's new manager – Guus Hiddink – has done very well after replacing Jose Mourinho, with the Blues drawing 1 and winning 3 under him. This good recent form has given Chelsea fans great hope for the future and has given the players the confidence that they had lost in the majority of 2015/16 Premiere League season.
Goalkeeper
Begovic started for the Blues against Scunthorpe United in the FA Cup, but he isn't the most trustworthy goalkeeper that Chelsea have got, as Thibaut Courtois is a world class goalkeeper who could be the Blues' game changer. So naturally, Courtois should start for the Blues against the Baggies.
Defence
Although John Terry didn't start in Chelsea's FA Cup fixture against Scunthorpe United, he is still expected to start alongside Kurt Zouma. Their partnership in Central Defense has been great and is one of the main reasons that the Blues haven't conceded a single goal in their last two Premiere League games.
Chelsea's fullbacks, Branislav Ivanović (Right Back) and Cesar Azpilicueta (Left Back), performed very well against Scunthorpe United. Ivanović did very well defensively and also assisted Diego Costa's opener with a brilliant cross, and Azpilicueta was great on both defending and attacking sides.
Midfield
Fabregas has completely returned to his initial form and is once again Chelsea's best ball distributor and playmaker in the heart of the midfield. He should start in Chelsea's Central Midfield, alongside Jon Obi Mikel who had two great games against Manchester United and Crystal Palace. Mikel could support Zouma and Terry in the defence, which would give Fabregas enough space to confidently distribute the ball.
Kenedy should start in Chelsea's "Left Attacking Midfielder" position, as Hazard is injured and Pedro's performances have been mostly disappointing. Kenedy is very talented and should finally get the chance to showcase his footballing prowess for 90 minutes. Wilian should start in Chelsea's "Right Attacking Midfielder" position, as he has been Chelsea's most consistent and best player in the ongoing season. He has also been great in Chelsea's last two games, which should warrant him a start against the Baggies.
Although Oscar has been great in the last couple of Premiere League fixtures, his performance against Scunthrope in the FA Cup was extremely dissapointing. He wasn't too great when attacking and didn't bother to track back.
He looked rather uninterested in Chelsea's Central Attacking midfield, so he got replaced by Loftus-Cheek, who looked eager to prove himself to Guus Hiddink. He came on and performed well, with him scoring the Blues' second goal in the 68th minute. This should warrant him an start for the Blues against West Bromwich in the "Central Attacking Midfield" position.
Striker
It seems like Diego Costa is finally back on form, with him scoring 4 goals and giving an assist in his last 4 games. Costa has started to play well under Guus Hiddink, which hints at his supposed "fallout" with Jose Mourinho.
Costa also got injured at the end of the Blues' game against Scunthorpe, however, he has been passed fit for Chelsea's game against West Bromwich so he should definitely start.
(4-2-3-1)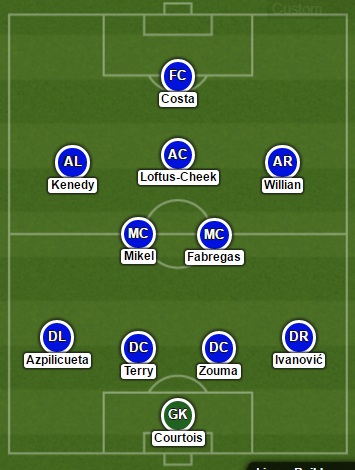 Via – Lineup Builder