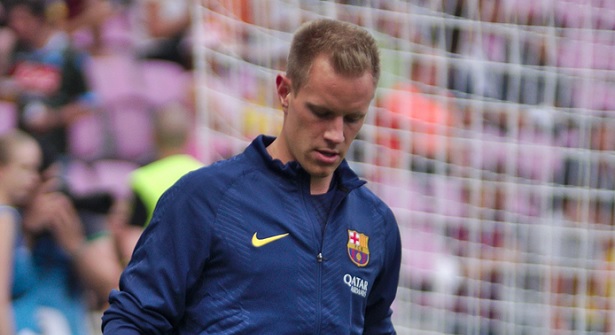 It's no surprise that FC Barcelona swept the Ballon d'Or awards after having won the treble last season. However, as coach Luis Enrique stated, the focus should be on football now. The comfortable 4-1 from the first leg can help bring some rest to the key players, as they prepare for three complicated weeks. Athletic Bilbao, Málaga and Atlético Madrid are coming up, so it's best to risk the minimum in the Copa del Rey.
Preferred Formation: 4-3-3
Lucho will stick with his usual philosophy. He's resorted to the youth system before to fill the lineup, so it wouldn't be strange if it happened tomorrow. He has enough depth to still put out a competitive team and protect the first leg result. Messi, Neymar and Suárez should be cared for, as they're the reason for this term's success.
Defence
Marc-André Ter Stegen is certain to be starting in goal while Marc Bartra and Jérémy Mathieu should be handed an opportunity to start, giving the duo of Gerard Pique and Thomas Vermaelen a well deserved rest.
Aleix Vidal is expected to continue playing after his debut a week ago. There's a chance he could play in his original position in the midfield as well. Adriano has lost relevance, yet his experience makes him worthy of contributing in matches like these. Keeping Jordi Alba healthy is a priority and Adriano will do just fine.
Midfield
Javier Mascherano is expected to finally take up his natural midfield position for the clash while Ivan Rakitic will be tasked with the job of creating chances in the absence of Andres Iniesta.
Sergi Roberto has been off and on the starting lineup this season but he is certain to start in place of Sergio Busquets on Wednesday night. The youngster is capable of leading the midfield and creating good opportunities.
Attack
RW: Arda Turan
Like Aleix Vidal, he's going to remain in the lineup. He's improving with time and gaining back the competition rhythm. There's no doubt he will be important in this second half of the season.
ST: Munir El Haddadi
After his great debut last season, he lost that confidence in himself and the coach did so as well. It's not easy to fight against Messi, Neymar, and Suárez, still good performances put him higher up in the substitute list.
LW: Sandro Ramírez
Like Munir, he hasn't been stood out in comparison to the MSN. Signings could come during this transfer window or the next, so he can't wait too long to deliver.
(4-3-3)