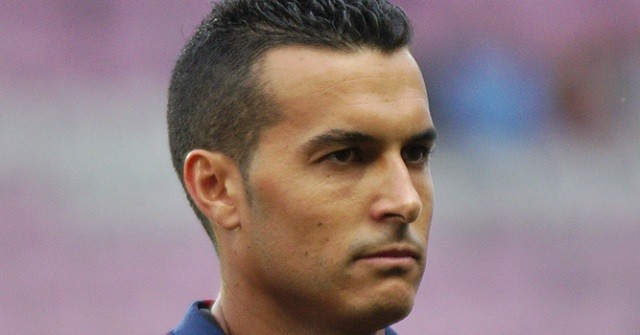 FC Barcelona manager Luis Enrique has no intention on bringing back Pedro Rodriguez, who was sold by the Spanish giants to Chelsea for £21.1 million, newspaper Sport understands. 
The newspaper wrote that Enrique was given the suggestion of buying back the Spanish forward by FCB's board following Chelsea's poor run this season. Enrique has rejected the offer as he only intends to obtain the services of Denis Suarez of Villareal and Nolito of Celta de Vigo, believing that Pedro would likely represent Barça's past.
The Nolito move is seemingly becoming more and more unlikely due to the 28-year-old's massive release clause of €18 million, of which Barcelona isn't willing to pay for.
Well aware of his good form and willingness to play for Barça again under former Celta manager Enrique, Nolito has acknowledged the rumors and has also stated to enjoy his football at Celta as well. With weeks left in the window, the release clause will likely be the only thing stopping Barcelona.
They've also set their sights on Denis Suarez, the Villareal midfielder. Barcelona had sent Suarez on loan to Sevilla while he was a Barça B player during the 2013-2014 season. Sevilla proceeded to sell Ivan Rakitic to Barcelona and Suarez to Villareal near the end of the season. He's been a shining prospect at Villareal with 3 goals and 3 assists. Suarez would be eager to return to the Catalan club as a first team player and at €3 million, he's by far a cheaper signing possibility. 
However, Sport also claim Real Madrid are refusing to sell Denis Cheryshev, Villareal's current target to replace Suarez if he does leaves for Barça. Thus, this could halt their chase for the 22-year-old Spaniard. 
Messi's Wife: "Next Stop, London!"
Lionel Messi has been speculated to be considering a move to the EPL since last season. Manchester City and Arsenal are among the more recent clubs all eyeing the legendary Argentine but Chelsea has been the biggest of them of all and Messi's wife, Antonella Rocuzzo, might just have given us the biggest clue toward the validity of this transfer rumor. 
On her Instagram page, she recently posted a photo of her and Messi with Chelsea midfielder Cesc Fabregas & his wife after dinner at a restaurant. The caption for the picture says "With great friends!! Next stop, London!" 
The post has since gone viral, especially among the Barcelona faithful, who are essential against the move. We might never know what was likely spoken at that dinner table, and the media is dying to find out as several newspapers and websites have posted their opinion on what it could mean for Barcelona.