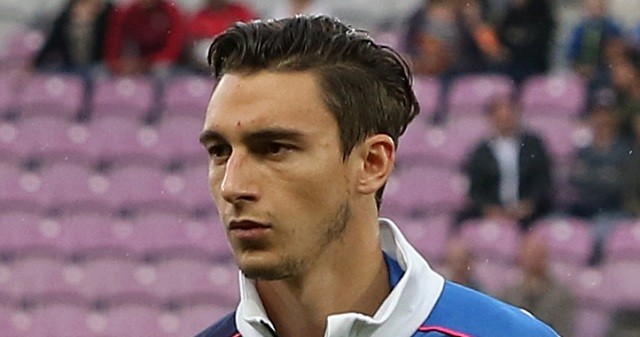 Manchester United's recent form is starting to pick up and with FA Cup action returning this weekend, the Red Devils hope their luck will continue so that they may indeed add some silverware to their barren trophy cabinet. With the transfer window wide open and the talks to sign United's favorite son in full force, United must first keep their eyes on their next challenger, Sheffield United, in FA Cup action at Old Trafford on Saturday.
Goalkeeper
David de Gea returned to form this past weekend with a relatively strong outing in the win against Swansea. United's unquestioned leader on the defensive side of the ball will be defending his goal once again.
Defense
Chris Smalling and Daley Blind's partnership resumed over the past weekend as well, and although they looked relatively strong and just let up one goal, United may look to add to the central defender spot in this window. Smalling shouldn't have to worry, as he is enjoying his best season in a United jersey, however, Blind's number may be up if Louis van Gaal can find a quality replacement here.
Ashley Young enjoyed one of his better matches against Swansea and will most likely resume his spot as one of the fullbacks. Phil Jones had another poor match this past weekend, so look for his substitute, Matteo Darmian, to resume his role as the other fullback in the defense.
Midfield
Morgan Schneiderlin and Bastian Schweinsteiger both started this past weekend, but with another important Premier League match coming on Tuesday, van Gaal would be wise to rest Schweinsteiger and start Michael Carrick in his place. One could argue that Schneiderlin has quietly been the key signing for van Gaal this year, scoring just one goal thus far, but his younger legs can be counted on over the aging ones of Carrick and Schweinsteiger.
Anthony Martial had another splendid match this past weekend, and Ander Herrera played well for the most part, but it is the quiet form of Juan Mata that has people shaking their heads. He put forth a few dangerous shots, nonetheless, his creativity and influence on the pitch has gone by the wayside.
Striker
Wayne Rooney, who has recently been named England Player of the Year, is recently fresh off scoring a lovely back heel goal, which marked his third in the league. It wouldn't be far fetched to see Rooney rested ahead of the Newcastle match up, but van Gaal may hope to see his form and confidence pick up with his latest award and goal.
(4-2-3-1)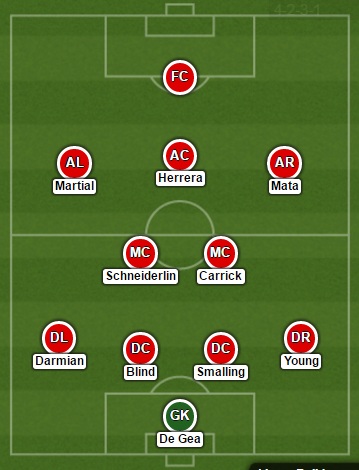 Via – Lineup Builder