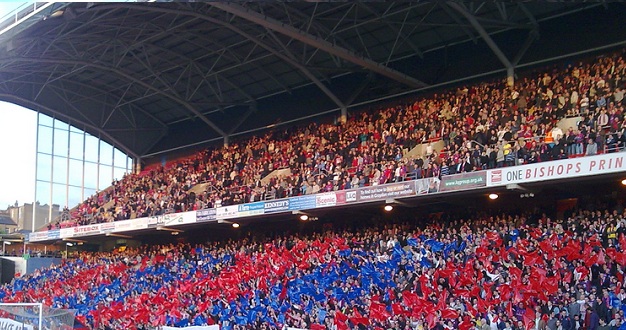 Chelsea's start to Premier League's 2015/16 season was nothing but horrendous, however, they have experienced a much better form in their last couple of games. They have won against Sunderland and drawn against in-form Watford and Manchester United. Chelsea's recent good form has made many hopeful for the Blues to start 2016 with a big win, against the side that won them 2-1 in Stamford Bridge – Crystal Palace.
Goalkeeper
Although the crossbar and the post came in twice to rescue a clean-sheet for Thibaut Courtois, he was very composed and brilliantly denied Herrera. He should definitely start for the Blues as he is the best man to protect their net and one of the best goalkeepers in the world.
Defense
John Terry and Kurt Zouma's amazing partnership in Central Defense was one of the main reasons that Chelsea managed to salvage a point against Manchester United. They were both put under extreme pressure in Old Trafford, however, they still managed to frustrate and deny the Reds' attackers in many occasions. So naturally, they should both start against The Eagles.
Although Chelsea drew against Manchester United and managed to get a clean-sheet, there were still defensive problems in Chelsea's backline, most of which rooted from Chelsea's fullbacks – Cesar Azpilicueta and Branislav Ivanović. Azpilicueta has massively dipped in form and Ivanović looked like he was going back to his old horrendous form of the beginning of the current season. For this reason, Kenedy should start as Chelsea's left-back as he has already shown that he is a great fullback. And Abdul Rahman Baba should start ahead of Ivanović as he has also had a good performance as Chelsea's right-back.
Midfield
Nemanja Matić and John Obi Mikel were both great in Chelsea's Central Midfield, as they did very well defensively. John Obi Mikel was one of the main reasons that Chelsea kept its clean-sheet, and was one of Chelsea's best defensive players on the pitch. Nemanja Matić, however, was perfect defensively but failed to score his perfect one-on-one opportunity against De Gea. Because of their good performance against the Reds, they should surely start against Crystal Palace on Sunday.
Pedro and Willian both disappointed the Blues with their below average performance on Chelsea's wings. Pedro was decent when attacking, but he couldn't attack much as Chelsea had sat deep and he also couldn't defend. With Hazard completely fit, he should go back and replace Pedro in the Left Wing position. Willian, Chelsea's best player in the 2015/16 season and one of the Blues' most consistent players, finally had a bad game for the Blues. However, he should still start against the Eagles in the Right Wing position.
Oscar should definitely start for Chelsea against Crystal Palace in the Attacking Midfield position as he is perfect offensively and could also help out in defense. He has been one of Chelsea's best players in the last couple of games, and will mostly likely be on Chelsea's team-sheet.
Striker
Diego Costa was sidelined in Chelsea's game against Manchester United, so he should be feeling the pressure to bump his game up. He is definitely what Chelsea need up front, a real striker, and should start against the Eagles and prove his worth.
(4-2-3-1)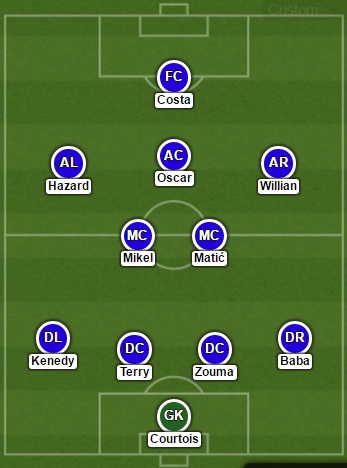 Via – Lineup Builder