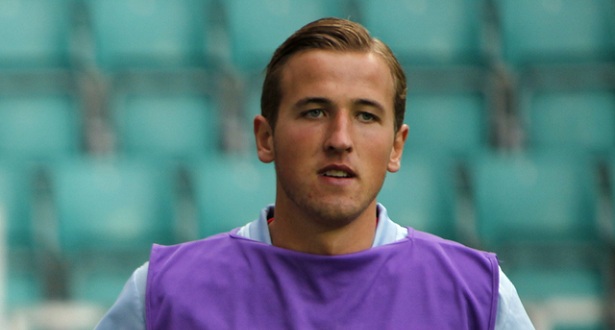 Tottenham Hotspur look to continue their run of good form in the new year as they travel to Goodison Park to take on Everton. Spurs are coming off a win against Watford while Everton lost in injury time to Stoke on a controversial goal.
Recent news says that Mousa Dembélé will for sure miss the Everton match as he's dealing with a groin injury. Poch said he could miss weeks too, which is not good news as he's a force in the midfield for Spurs.
Mauricio Pochettino's side are now starting to really get recognition as actual contenders for the Premier League title. A win on Sunday would only help strengthen the Lilywhites' chances.
Goalie: Hugo Lloris
The Frenchman wasn't fantastic last Monday but is still one of the league's best. He'll be in net on Sunday.
Right back – Kyle Walker
Keiran Trippier was in great form last match and for many was the man of the match. But despite his great form Walker is still the first choice at right back.
Centre backs – Toby Alderwerield and Jan Vertoghen
The Belgian duo will have their toughest challenge in recent matches as they go up against fellow countryman, Everton striker Romelu Lukaku, who has been in amazing form recently. They should be able to contain him, but it won't be easy.
Left Back – Ben Davies
Poch should start Davies instead of Rose because the Welshman is more conservative and doesn't get up as much as Rose. With Davies at left back Vertoghen usually has played better and he's going to need help in this match. Davies will allow Vertoghen to just focus on Lukaku. He's the safer play here.
Centre Midfielders
Eric Dier – Dier looks more and more comfortable every match in his role as the holding midfielder. It will be interesting to see how he deals with Ross Barkley.
Dele Alli – With Dembélé out, Poch will drop Alli back into more of a box-to-box role in the midfield.
Attacking Midfielders
Centre Attacking Midfield – Christian Eriksen
With Alli dropping back, Eriksen will slide over to the centre attacking midfield. Eriksen's more natural position is right behind the striker. The Dane will be able to distribute balls and create plays better from this position. Also look for him to drift out to the left a little bit as the match goes on.
Attacking left – Son Heung-Min
Son had a glorious backheel goal in the last minutes of the match vs. Watford that proved to be the game winner. Hopefully that goal can spark the South Korean's confidence and bring him back to the form that we saw earlier in the season before he was injured.
Attacking right – Erik Lamela
Lamela is showing everyone that he's a force to be reckoned on that right side as he's getting and creating space to run at oppositions' backlines. Lamela has been in great form recently and the Argentinian looks to keep it up as he'll most likely be marked by the Toffees' Leighton Baines.
Striker – Harry Kane
Kane has been in outstanding form lately and will look to pick apart U.S. International Tim Howard. Howard struggled in his last outing and has many Everton fans calling for the club to look for other options to replace the goalie in January.
What's your lineup for Spurs, and what do you think the result will be?
(4-2-3-1)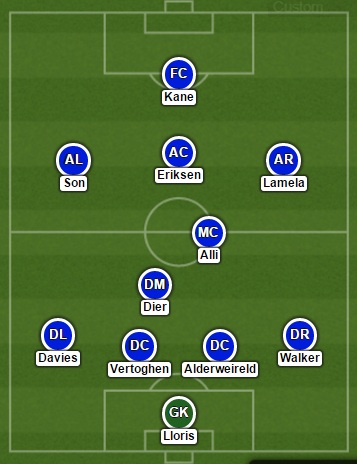 Via – Lineup Builder