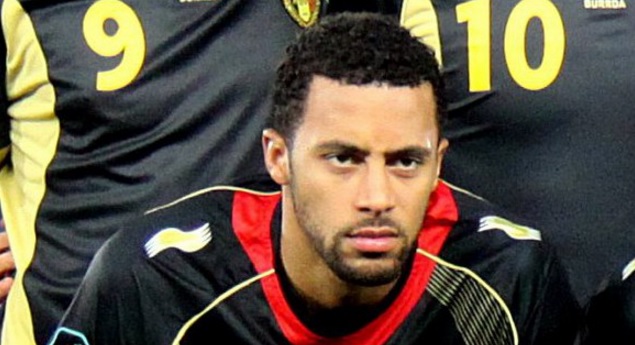 It has been a spectacular 2015 for Mauricio Pochettino and Tottenham Hotspur  who find themselves four points ahead of 5th place Crystal Palace and a point behind 3rd place Manchester City. With the emergence of Dele Alli, Toby Alderweireld, and Erik Lamela along side the continued success of Harry Kane, Spurs are showing signs of being title contenders.
A great test at Goodison Park this Sunday should be a blast to watch. With the combination of Romelu Lukaku's unstoppable striking form and the injury to Mousa Dembele, Spurs will have their hands full. Pochettino said about Dembele, "he is out of the game against Everton because of a very small injury in his groin. But he may be a few weeks out"
Goalie
Captain Hugo Lloris will be between the pipes for Tottenham. A goal last weekend at Watford was one he would have liked back; however, a massive goal line stand led to a late winner by Son Heung-Min in the 89th minute.
Defense
Danny Rose  has proven to be the more dangerous offensive left-back for Spurs and should be better suited to control the slashing Spaniard Gerard Deulofeu. Kyle Walker will be their right-back.
Maybe the best defensive duo at Center-back in England, the Belgians Toby Alderweireld and Jan Vertonghen will be suited with the difficult task of containing Romelu Lukaku.
Midfield
Dembele has been instrumental this season for Spurs, but in his other absence earlier this season, Eric Dier and Dele Alli played very strong in the holding midfield position. This is a massive test for Alli who has enjoyed moving farther up the pitch throughout the season.
Christian Eriksen who has been placed in a left of center position, but it is likely he will come back to his traditional number 10 role.
Erik Lamela scored Spurs first goal against Watford on a great body fake to sway the keeper into going the wrong direction. Lamela has proven to be vital to this squad's success and will look to create a goal streak.
Son Heung-Min has been the victim of all the great play of current Tottenham midfield and attack; however, he should get the nod after scoring his heroic back heel flick with a minute to spare.
Striker
Harry Kane sits on 11 goals will want to close the gap on leaders Lukaku and Jamie Vardy (15). You have to believe with the way Kane's been performing that he will knock one home against the spotty Toffees.
(4-3-3)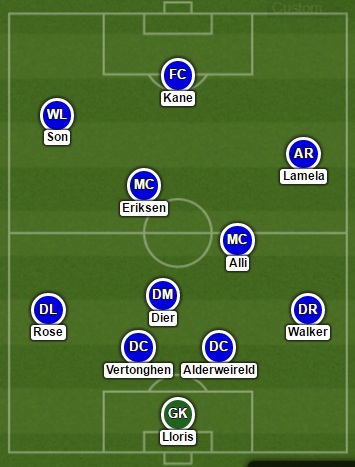 Via – Lineup Builder