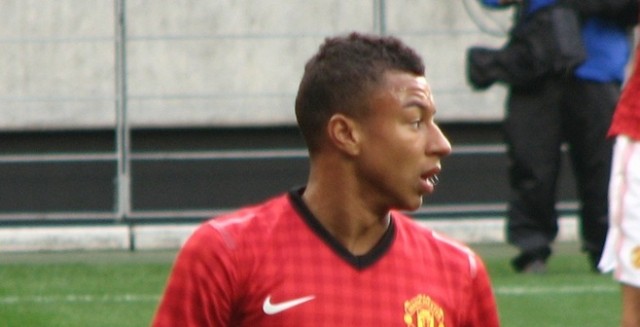 Manchester United had their strongest outing in over a month this Monday against Chelsea and will look to improve against another team fighting relegation. Yet, United now sit at eight straight games without a victory and possibly in their final days under Dutch manager, Louis Van Gaal.
The injuries which certainly contributed to their lackluster play are starting to return to form. Ander Herrera, Wayne Rooney, Bastian Schweinsteiger (suspension), and Morgan Schneiderlin all had positive impacts in their return, but will need to find a way past Swansea keeper, Lukasz Fabianski. It is unlikely to see a lot of change in Van Gaal's lineup on Saturday.
Goaltender
David De Gea did what was needed against Chelsea with a couple major saves and will get another start to commence 2016 play.
Defense
Depending on what Van Gaal sees as his best option with Winger and occasional full-back Ashley Young, I could see Cameron Borthwick-Jackson sliding in at left-back; however, it is most likely that Young get the nod. Matteo Darmian has been much stronger at right-back instead of being forced to the left.  In the center expect Daley Blind and Chris Smalling. 
Midfield
Bastian Schweinsteiger and Morgan Schneiderlin are going to play just ahead of the back four and will be trying to hit wingers (left) Martial and (right) Lingard in stride.
Playing in the 10 role will rather be Juan Mata or Ander Herrera. Both are most effective in that role, but Mata may have just been a bit too quiet for Van Gaal's liking against Chelsea. Herrera should get another chance to make an impact at Old Trafford.
Striker
Wayne Rooney had some pep in his step and despite not getting on the board Monday and I expect Van Gaal to go with the captain to lead the charge.
It seems like the speculation over Van Gaal's job has slowed a bit and he is trying to look at the major issue at hand, which is United's position in May. "We need to win because we want to be at the end [of the season] in the top of the league, and not the middle of the league." A win is an absolute must against the Swans who took the reverse fixture thanks to striker Bafétimbi Gomis.
(4-2-3-1)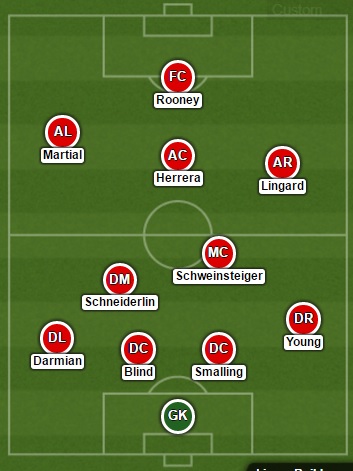 Via – Lineup Builder