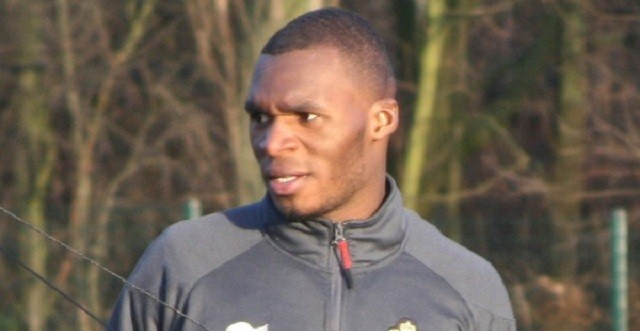 Jurgen Klopp and Liverpool will be looking for three consecutive wins for the first time in his tenure on Saturday as they face West Ham United away from home. A victory would be the perfect start to the new year for the club as the transitions to the new era.
Goalkeeper
Simon Mignolet has kept a clean sheet in consecutive matches but he still does not inspire a whole lot of confidence in Klopp and his teammates.
Right-Back
Nathaniel Clyne will continue to start given the fact that there is no other player capable of replacing the Englishman for now. He is not the most aggressive attacker but his defense is better than most in his position.
Center-Backs
Dejan Lovren and Mamadou Sakho have looked very solid together but they are facing a difficult test this weekend as they face a capable West Ham attack. While Enner Valencia has yet to score a single goal this season, the Hammers as a whole have many players who can put the ball in the back of the net.
Left-Back
Unlike Clyne, Alberto Moreno is one of the better attacking full-backs in the Premier League, he just needs to be more consistent defender in order to get to the next level. He is still a young player so he still has a lot of time to develop and Klopp has shown that he is really willing to let Moreno grow.
Defensive Midfield
Lucas Leiva will likely partner Emre Can given the injury to captain Jordan Henderson. While the team will miss Henderson's all-around game, Lucas's defensive skills should allow the Reds to stifle the West Ham attack right at its source.
Attacking Midfield
Adam Lallana, Roberto Firmino and Philippe Coutinho had a combined 8 shots against Sunderland but none of them resulted in a goal. At this point, it should be more about quality than quantity for the three players, they need to create the best shot possible rather than shooting at the first glimpse of goal they see.
Forward
Christian Benteke has scored the winning goal in the last two matches but he still looks so out of place on the field. It is obvious that he is not the ideal striker of choice for Klopp but Benteke has to start given the injuries to both Daniel Sturridge and Divock Origi.
(4-2-3-1)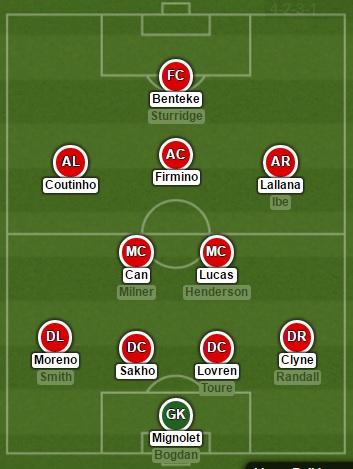 Via – Lineup Builder