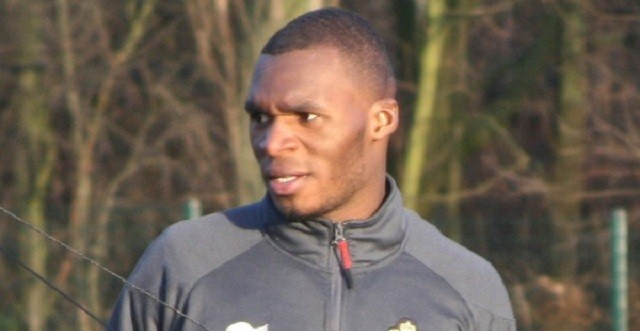 With a 1-0 victory over the league leading Leicester City, Jurgen Klopp and Liverpool finally got back on track after struggling the last few weeks. While the scoreline indicated a tight game, Liverpool were clearly the better team, the players just couldn't finish the scoring chances they created.
The team now faces Sunderland, a club deep in the relegation zone. The only thing that could make the match more difficult than it should be is that Klopp might rotate his squad a bit more than usual given that the team plays again on January 2.
Goalkeeper
Simon Mignolet will really need to prove himself between now and the beginning of January given that the club is being linked with many goalkeepers around Europe. Avoiding dumb mistakes and keeping a lot of clean sheets will go a long way in discouraging Klopp from finding a new no. 1.
Right-Back
Nathaniel Clyne will be marking former Liverpool player Fabio Borini and he should be able to shut him down. Clyne's performance this year has been solid but unspectacular, however, he is still one of the better right-backs in the league.
Center-Backs
The partnership of Dejan Lovren and Mamadou Sakho looked very good against Leicester City and they should have another good outing against the weak Sunderland attack. With Martin Skrtel out for an extended period of time, we will finally be able to see whether Lovren and Sakho are better together rather than pairing with the Slovakian.
Left-Back
Alberto Moreno has been a constant menace on the pitch ever since Klopp arrived but he still needs to work on his defending. His speed makes him tough to defend but he also relies a little too much on that when defending.
Defensive Midfield
The Reds should be able to control the midfield with Lucas Leiva and Joe Allen. Both are tough, physical players who will be able to quickly get possession back whenever the team loses the ball.
Attacking Midfield
Jordan Henderson, Roberto Firmino and Jordon Ibe should create a lot of scoring chances against the weakest defense in the Premier League but the team has to make sure that the finishing is crisp and well timed. The Sunderland defenders are slow and disorganized so Firmino's and Ibe's elusiveness will open up a lot of holes for them to exploit.
Forward
Despite scoring the winner in the last match, Christian Benteke still needs to improve is he is to make the team's £32,500,000 investment worthwhile. While the team as a whole has struggled the last few weeks, Benteke still has not looked anywhere near his potential during his time in Liverpool.
(4-2-3-1)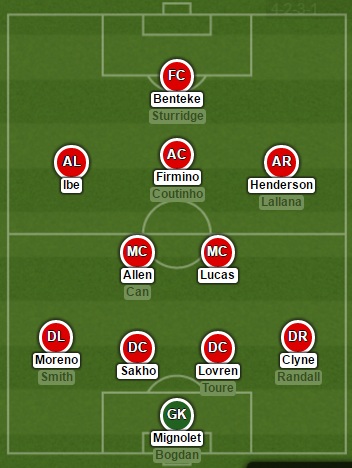 Via – Lineup Builder