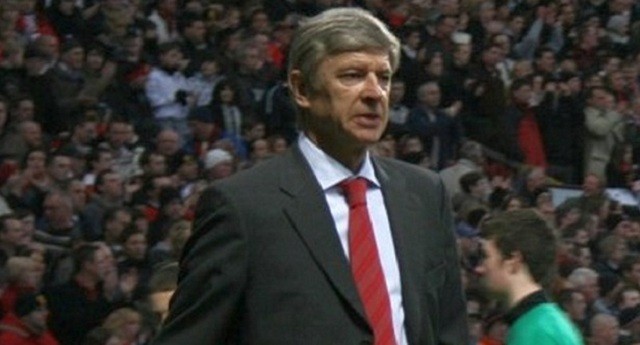 Arsenal returns to the Emirates on Monday against Bournemouth after a dismal performance against Southampton at St. Mary's.
The Gunners had an opportunity to go top after Liverpool beat Leicester City earlier in the day but they could not take advantage.
Arsenal could have another opportunity to go top of the table if Leicester fails to beat Manchester City on Tuesday. One could argue that a draw or Leicester win may be a better result for the Gunners in the long run.
After the match, Arsene Wenger admitted Arsenal lacked fight and lost too many challenges to win the game. He faulted the referee for three of Southampton's four goals, but at the end of the day admitted Southampton were simply the better team.
With such a quick turnaround, Wenger will have to rotate his squad. The starting eleven seemed jaded from Monday's tough win against Manchester City and perhaps the manager should have rotated a few players Saturday evening.
With squad depth depleted due to injuries, it's difficult to see how many players Wenger will be able to rest. The likes of Gabriel, Calum Chambers, Mathieu Debuchy, Kieran Gibbs, Alex-Oxlade Chamberlain, and possibly Alex Iwobi should all start. After that, Wenger may be forced to play some tired players like Mesut Özil or Aaron Ramsey.
The most obvious thing for Wenger to do is play the players who came off with the players who came on as substitutes during the match.
Here is Arsenal's most probable starting lineup against Bournemouth on Monday.
Goalkeeper – Cech
Petr Cech will again be hoping for a clean sheet to place him as the sole record holder for most in Premier League history.
Cech will be disappointed with his performance against Southampton. He should have came out for the ball on the third goal and dealt with Shane Long's shot poorly on the fourth.
A better performance on Monday is expected.
Right Back – Debuchy
Mathieu Debuchy will get a rare start. Earlier in the month he complained to French radio about his limited opportunities at the club. He hasn't featured since and hasn't made the bench in two straight matches.
His performances have been left wanting and he needs to take this opportunity to impress the manager if he wants to keep his Euro 2016 hopes alive.
Center Backs – Gabriel & Mertesacker
Per Mertesacker was excellent against Man City on Monday but struggled with the pace of Long and Sadio Mane on Saturday.
Gabriel replaces Laurent Koscielny who did not look sharp Saturday night and could use a rest.
Left Back – Gibbs
Kieran Gibbs gets a rare start in place of the consistent Nacho Monreal. Gibbs has played well this season when given the opportunity but Monreal has played even better.
Defensive Mid – Chambers
Chambers gets a rare start and it comes in a less familiar position for the youngster. Wenger has been throwing Chambers onto the pitch as a defensive midfielder to end games for the past few matches in an attempt to prepare the youngster for an opportunity such as Monday.
It will be a stern test for Chambers but he has the physical and technical ability to thrive in this position. He lacks experience, which could hurt him in a position where special awareness is so important.
Defensive Mid – Flamini
Mathieu Flamini will play next to Chambers and the duo will form a defensive shield behind Ramsey and in front of the back four. This will allow Ramsey to play more adventurously and allow Özil the rest that he needs.
Attacking Mid – Ramsey
Ramsey was the only Arsenal player on the pitch Saturday who put in a decent performance. He was a constant source of energy and dribbled through the midfield time after time only to find his teammates had failed to join him.
He'll play in a more advanced position on Monday, allowing him to focus on his attacking responsibilities and possibly conserve some energy by not having to defend as much.
Right Wing – Oxlade-Chamberlain
Oxlade-Chamberlain came on in the 64th minute and was a ghost on the pitch He was responsible for Southampton's third goal as he failed to complete his zonal marking duties and allowed Jose Fonte to run right past him.
His form the past month does not merit a starting place in any match, however, considering Arsenal's lack of depth at the moment he gets the start.
Like Debuchy, he needs to start taking advantage of the minutes he receives or else what started as a promising season will soon turn into one to forget.
Left Wing – Campbell
Joel Campbell was still feeling the effects of Monday's match against Manchester City. He failed to make any real impact against Southampton, and maybe should have been rested in place of Oxlade-Chamberlain. His form had been excellent though and you can't fault the manager for sticking with a winning formula.
Having come off in the 64th minute, the manager may again choose to start the Costa Rican but isn't likely to allow him to finish the match. Iwobi or Jeff Reine-Adelaide will likely make a cameo at the end of the match and it's possibly Iwobi could start if Wenger feels Campbell hasn't recovered in time.
Striker – Walcott
Theo Walcott failed to impress against his former club after putting in a stellar performance against Man City. The English international was replaced in the 78th minute by Iwobi, indicating he could start Monday's match.
With Olivier Giroud in need if a rest and Walcott the only other healthy striker in the squad, Walcott is the obvious choice up front.
(4-2-3-1)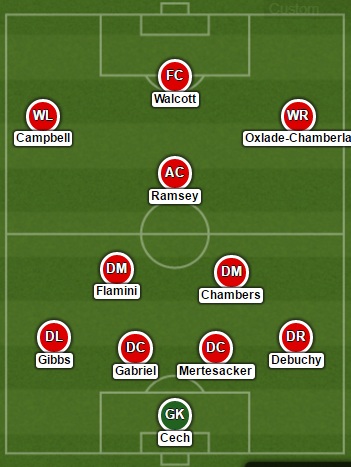 http://lineupbuilder.com/?sk=9ly29