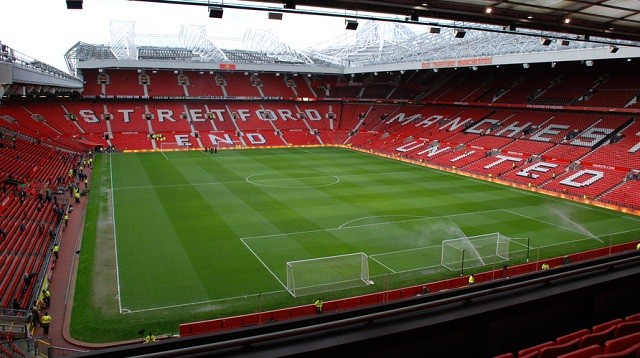 Another Premier League match for Louis Van Gaal's Manchester United and another uninspired outing was the outcome. Fans and pundits have called for Wayne Rooney to be dropped, which was the case in the first half against Stoke on Saturday, but United seemed to look even worse without the Captain.
Monday's match with Chelsea could very well be the last match in charge for Van Gaal, unless he gets sacked over the weekend or decides the pressure is too much and steps down on his own. Chelsea have been uninspiring for much of the campaign, however, the champions still boast a very talented squad that could cause United a lot of problems.
Here is United's squad that will host Chelsea:
GOALKEEPER

David de Gea was left hung out to dry by Memphis Depay's back pass that ended up causing the first goal of the match on Saturday, but United's best player will hope to bounce back at home. He still remains the best option for van Gaal and cannot be blamed for either of the goals on Saturday.
DEFENCE
In an effort to shake up the back line that hasn't been defending all that well, van Gaal may keep Ashley Young at right back, but have the returning Matteo Darmian patrol the left side of the defence. Darmian will hope to provide an added boost and pray that his good form that we saw at the beginning of the campaign returns as well.
Phil Jones has been in poor form the last few matches and his partnership with Chris Smalling is starting to stall. Look for Daley Blind to assume the role of center back along with Smalling, as Jones tries to sort out his poor form.
MIDFIELD
After a sorry display from the fill-in captain, Michael Carrick will most likely make his way to the bench and will be replaced by either Bastian Schweinsteiger or Morgan Schneiderlin in defensive midfield. Schneiderlin was fit to play on Saturday, but was strangely dropped for Marouane Fellaini. Either way, Schweinsteiger and Schneiderlin will be the duo in front of the back four on Monday.
In the midfield attack, Memphis had an atrocious match and will certainly be dropped. Anthony Martial will be deployed on the left wing in Memphis' spot, Juan Mata on the right wing and Ander Herrera will be given another opportunity in the hole. Martial will hope to run in from the wide areas and use his pace to stretch the Chelsea defence and make room for his other attacking partners.
ATTACK
We figured out that Wayne Rooney cannot be blamed for all of United's attacking problems, since they did play a bit better once he was introduced in the second half. Look for Rooney to be given the opportunity to lead the line and save the job for the man that put so much faith in him to be the captain.
(4-2-3-1)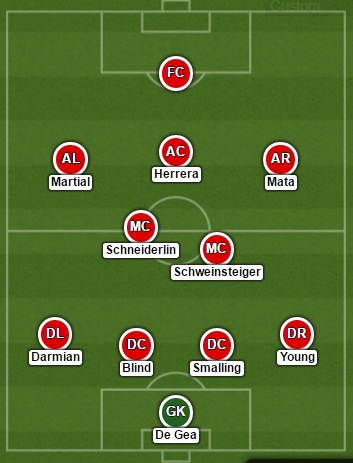 Via – Lineup Builder