Chelsea's 2015/16 season was a complete disaster, which resulted in Jose Mourinho – arguably the best manager in the world – getting sacked. Chelsea fans weren't happy about this decision, as they thought that Chelsea's drop in form was because of the players and not the manager. However, Roman Abramovich was out of patience and found it much easier to sack the manager rather than selling some of his big-name players.
There were many rumors suggesting that Jose Mourinho had lost the dressing room, meaning that the players didn't play well under him on purpose! This rumor was even more widely believed when out-of-form Ivanović scored Chelsea's first Goal against Sunderland in the 6th minute, in a game where the Blues had one their best performances of the entire season! So could they repeat the performance against much tougher opponent Watford? Or will they go back to their horrible form under Mourinho?
Goalkeeper
Thibaut Courtois was decent in the net against Sunderland, but he didn't have much to do. However, this won't be the case for him against Watford, as they have one of the best-attacking duos of the Premier League: Deeney and Ighalo (who have been overshadowed by Leicester's brilliant duo: Vardy and Mahrez).
He should start for the Blues but expect himself to be extremely busy in the net, in a game where Chelsea supporters are waiting for Courtois to prove once again that he is one of the greatest goalkeepers in the world.
Defenders
Although Chelsea had a great game against Sunderland, their backline still had many problems. John Terry was Chelsea's best defender and his partner in the Central Defence, Kurt Zouma, was great in the first half but struggled in the second. The defensive duo should still start against Watford, as they are both the Blues' best Central Defenders.
Azpilicueta has lost his good run of form, as he has struggled in the past few weeks. He has been great offensively, but his defensive performances haven't been convincing. So it would make sense for him to sit on the sidelines for the 19-year-old Kenedy. Kenedy performed incredibly well for Chelsea in the Left Back position when they met against Norwich, and it's very possible that he could do the same once more.
Similar to Zouma, Branislav Ivanović was amazing in the first half but mainly struggled in the second half. He scored Chelsea's first goal in the 6th minute, giving them an early lead, and also assisted the Blues' second goal (scored by Pedro). And although he wasn't too great in the second half, he still deserves a spot in Chelsea's starting lineup, as he was one of Chelsea's best players in the match.
Midfielders
Nemanja Matić and Cesc Fabregas did very well as Chelsea's midfielders, with Matić successfully defending his line, and Fabregas being impressive in the first half. They both played well and deserve to start against Watford.
Pedro and Willian both performed well to guarantee themselves an start for the Blues against the Hornets. Pedro, Chelsea's Left Attacking Midfielder, scored Chelsea's second goal and was all-around decent. With Hazard presumably still struggling with injury, Pedro could be a perfect replacement for the Blues. Willian, Chelsea's Right Attacking Midfielder, had another brilliant performance for the Blues to prove once again that he is Chelsea's main man and best player of 2015/16.
Oscar, Chelsea's Central Attacking Midfielder, was brilliant against Sunderland and was easily the best player on the pitch. He irritated Sunderland's Pantilimon (Goalkeeper) with his great shots and finally scored his team's third goal from the penalty spot to show that he should definitely start against Watford.
Attackers
Loic Rémy should finally start for Chelsea as he is currently their best striker. He is much better than Diego Costa who is overweight and is constantly booed by Chelsea fans who blame him (and a few other players) for Mourinho's departure. Rémy looks much more fit and ready to start, as he even impressed the fans when he came on for Costa and played very well for 15 minutes against Sunderland.
(4-2-3-1)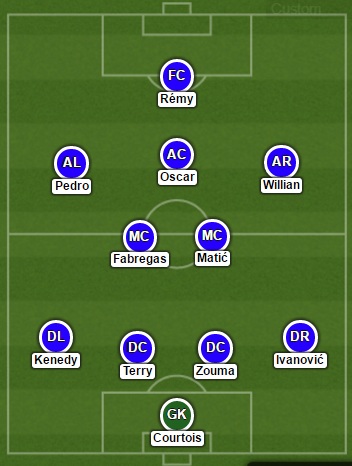 Via – Lineup Builder