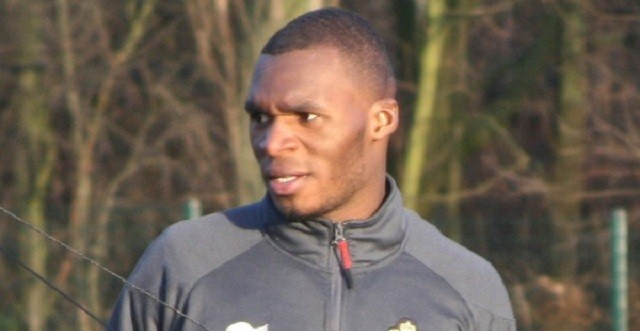 Jurgen Klopp and Liverpool are falling apart, they haven't won a single match since the 6-1 defeat of Southampton and they reached a new low with a 3-0 loss at Watford. Klopp is rapidly losing the goodwill that came with his hiring and his players look lost.
The injuries certainly haven't helped matters but things should start improving eventually. The squad will eventually return to full health and the players will figure out what Klopp expects from them. They face Leicester City the day after Christmas and as sad as it is to say, fans should keep expectations low for now.
Goalkeeper
Simon Mignolet is arguably the most hated Liverpool player so he desperately needs to prove himself again to the fans. The Belgian has Klopp's backing but his performances have been severely lacking in recent weeks. The one thing he has going for him is that Adam Bogdan's horror show last week proves that Mignolet is in no danger of losing his spot.
Right-Back
Nathaniel Clyne will arguably have the easier player to mark between the two full-backs but Marc Albrighton is still the second leading assist provider for his team. Clyne will need to take more of a leadership role on the defense given that the unit has really struggled the least few weeks.
Center-Backs
Mamadou Sakho and Dejan Lovren will likely start in the middle after Martin Skrtel's injury. Lovren is back in training while Sakho looked rusty last week after he himself returned from a long injury layoff. Both defenders will be facing an extremely challenging task since Leicester have scored the most goals in the Premier League.
Left-Back
Given the fact that he is going to mark Riyad Mahrez, arguably the best player in the league this year,  Alberto Moreno really needs to step up his game for this match. Mahrez is an extremely well rounded winger and he has shredded basically every single defender that has tried to mark him.
Midfield
Controlling the midfield will be extremely important for this match. Jordan Henderson, Emre Can and James Milner really need to maintain possession and keep Leicester from springing a quick counter-attack. Henderson is facing his first real test as Liverpool captain as he needs to find a way to motivate his teammates. Both Can and Milner have been inconsistent this year and that has played a huge part in the Reds' struggles.
Right Wing
Adam Lallana is another player who has been extremely inconsistent. He has all the tools to be one of the best players on the squad, he just looses the ball too easily. Even if his impact on the pitch does not always translate to statistics, Lallana really needs to start scoring goals and providing assists.
Forward
Christian Benteke should get the start especially after Roberto Firmino's completely apathetic performance last week. Having Benteke in the middle at least gives his teammates some semblance of a target man up front. As great as Leicester have been this year, they still concede a lot of goals, hopefully Benteke will be able to take advantage of that.
Left Wing
Philippe Coutinho will no doubt be under pressure throughout the entire match since opponents know that stopping the Brazilian more or less stops the Liverpool attack. It will be up to Coutinho to use the attention he receives to his advantage, if he sees a double coming to stop him, he has to find his teammate who was left open.
(4-3-3)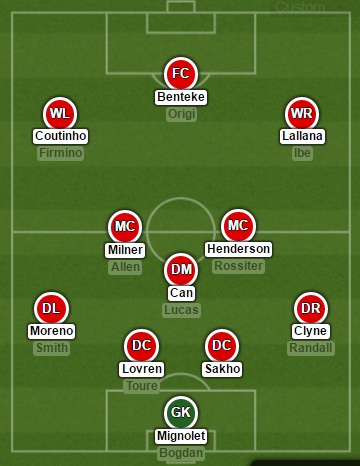 Via – Lineup Builder