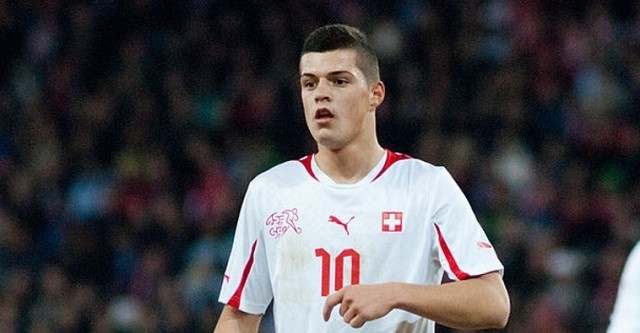 Arsenal have experienced loads of injuries in their midfield, but they still find themselves very much alive in the English Premier League title race.
They are currently in second place, only behind Leicester City who are shockingly on top of the Premier League table almost halfway through the season. There is no doubt that Arsenal are legitimate title contenders and they need to act like it in the transfer window.
In the Arsenal midfield, Jack Wilshere, Tomas Rosicky, Francis Coquelin, and Santi Cazorla are all currently injured with none of them expected to return in the immediate future.  Mikel Arteta and Alexis Sanchez are also out with injuries, but both are expected to return in the next few days unless they suffer some sort of setback.
Arsenal's midfield has been decimated by injuries, and they need to add some midfield depth if they want to push for the title.  Granit Xhaka could provide Arsenal with this much needed help.
Metro.co.uk is reporting that Arsenal could be interested in Xhaka.  He currently plays for Borussia Monchengladbach in the Bundesliga where he has proven to be a very solid player.
In his combined appearances from Bundesliga and Champions League games he is averaging 2.4 tackles per game, 2.8 interceptions per game, and 1.8 clearances per game.  He also has a good pass success rate of 84.8% in his matches this season.
Xhaka has proven to be a very good defensive player in Germany and this could be exactly what Arsenal need, especially since Francis Coquelin is expected to miss a significant period of time. Metro.co.uk is also reporting that Arsenal could be interested in William Carvalho, Ruben Neves, Victor Wanyama, and Adrien Rabiot as other midfield options if they are unable to get Xhaka.
Whether it is Xhaka or one of these alternative options, it is very important for Arsenal to bolster their midfield in January.  If they do, they would likely be one of the favorites to win the league.