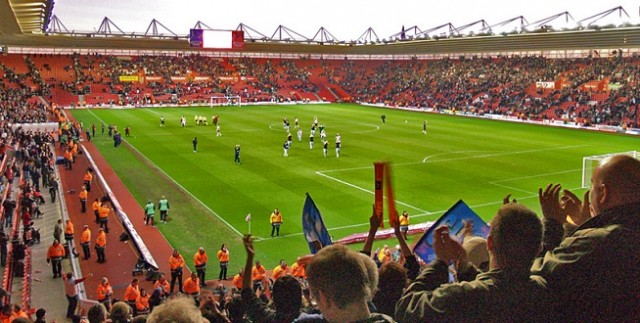 After a poor performance in the second half against Newcastle last Sunday, Tottenham Hotspur tasted something they hadn't sense the first match of the season. Defeat.
Going ahead to this week's match, the fifth place Spurs travel to Southampton on Sunday to take on the Saints at St. Mary's Stadium. Southampton has struggled recently failing to pick up a win in their last five matches.
Mauricio Pochettino's side haven't won a match in the Premier League since beating West Ham. With that being said, I believe the Spurs' manager will be making some changes.
Goalie: Hugo Lloris
He's been one of the best goalkeepers in the Premier League this season. No questions he'll be in net on Sunday.
Right back – Kyle Walker
A rough tackle early in the first half against Newcastle made some of us Spurs' fans worry, but he continued the match and was one of the lone bright spots for Spurs. He's been in good form all season and doesn't look to be slowing down.
Centre backs: Toby Alderweireld and Jan Vertoghen
Both have played well this whole campaign and it's starting to look like nothing but injury or suspension will break up this pairing in the back. Alderweireld's been one of the most consistent players for Spurs this season. Vertoghen not as much but he's still been solid.
Left back: Danny Rose
Rose has been consistent in the back and really hasn't given Poch any reason to change things up and go with Ben Davies.
Centre defensive midfielders
Eric Dier – Besides having a poor second half against Newcastle, he's been solid all season. One poor showing will not land the young Englishman on the bench against the Saints.
Mousa Dembélé – Dembélé is expected to return against Southampton and has been training this week. His presence was certainly missed against Newcastle. Spurs will need him in the midfield if they want to win against Southampton.
Attacking midfielders
Centre attacking midfield – Christian Eriksen
For me Alli is better in the centre midfield than at the10 and it's difficult seeing him in a position that Eriksen just thrives in. Eriksen is a true playmaker and with his skill set he's best suited for the 10.  Alli's been great this season and has exceeded almost everyone's expectations. But, for this match, he's on the bench to start. He'll come on later as a sub probably.
Attacking right – Erik Lamela
 Lamela looked like the best player on the pitch against Newcastle and it was frustrating seeing him subbed off in the second half when Spurs needed him out there to create scoring chances. He scored last year against Southampton and he's made it clear he would love to find the back of the net against the Saints again.
Attacking left – Son Heung-Min
Son failed to make an impact on Sunday, but I've come to notice he doesn't play as well as a substitute as when he's in the starting 11. It could be a mental thing. He just looks rushed when he's come on the pitch. Son needs more playing time since he's still adjusting to the league and I think Poch could give him the start on Sunday. That's only if Eriksen goes to the 10. If Alli stays or even Dembélé moves up to the centre attacking midfield role than Son's back on the bench.
Striker – Harry Kane
Kane will get the start and looks to find the back of the net after being left off the scoresheet the past couple matches.
The lost to Newcastle should be a wake up call to Spurs. This season Tottenham have dropped 11 points after scoring first in Premier League matches — the most by any team. The midfield looked poor in the second half last week. With players like Nacer Chadli and Nabil Bentaleb returning from injury, Poch could be looking to give some midfielders a rest. Will he do that though? That's what we'll have to wait and see come Sunday.
What's your lineup for Spurs, and what do you think the result will be?
(4-2-3-1)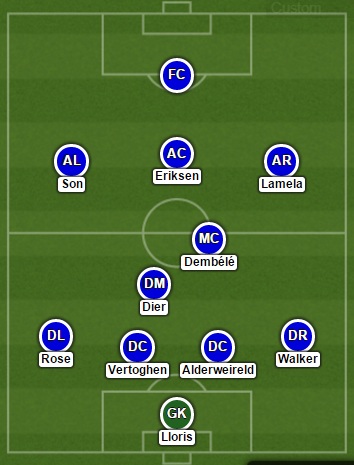 Via – Lineup Builder