Chelsea's Premiere League campaign in the current 2015/16 season has been a complete disaster, with them being 16th in the BPL, putting them only a single point away from relegation! So after all the losses and failures of the Blues in the league, Roman Abramovich finally lost his patience and sacked Jose Mourinho.
Aside from losing many games, Mourinho had also lost Chelsea's dressing room. Based on rumors from English Media, most Chelsea players were turning against him. "I've been betrayed by my Chelsea players" Mourinho semi-confirmed the claims.
Now the Special One is gone, and Chelsea doesn't have a manager for the time being, which means that Chelsea will have to play against Sunderland with Steve Holland taking charge of the Blues. So it is very interesting to see how Steve Holland's Chelsea will play against the struggling side, Sunderland.
Goalkeeper
Although Courtois didn't have the most convincing performance against Leicester, it could be easily spotted that he was low on confidence. So it would still make the most sense for Thibaut Courtois to start as Chelsea's goalkeeper, as he is one of the best goalkeepers in the world and has already shown his incredible goalkeeping prowess to the footballing world.
Defence
While many predicted that Chelsea's defensive partnership with John Terry and Kurt Zouma as central defenders would be a great choice (including me), they were all proven wrong as the duo couldn't deal with Leicester's merciless attackers. However, they are still the best Central Defenders that Chelsea has got and will most likely start against The Black Cats.
Azpilicueta who has been decent in the current season, was undoubtedly the worst player on the pitch against Leicester. He couldn't deal with Mahrez and his poor defending played a major role in both of Leicester's goals. So it wouldn't make sense for him to start the next game, and Baba should get a second chance in the Left Back position.
In the Right Back position, Ivanović was mostly trying to build attacking opportunities for his team, but failed to do much because of his poor crosses. But he was mainly decent while defending and should start against Sunderland.
Midfield
Chelsea's Central Midfielders, Matić and Ramires, had completely different performances. Matić was very impressive defensively, showing that he should start in the heart of Chelsea's midfield to support the defenders. Ramires, however, didn't have a good game. He was taken out of the game by Leicester's midfielders and struggled against the pressure, so he shouldn't start and should be replaced by Cesc Fabregas who had a much better performance against Leicester.
Willian had another good game, being Chelsea's best player on the pitch, and should definitely start as Chelsea's Right Attacking Midfielder against Sunderland. Eden Hazard's story is completely different though, as he was injured in the game against Leicester and will most likely miss Saturday's game, so he should be replaced by Chelsea's Brazilian youngster, Kenedy. Kenedy has only played a few games for the Blues and hasn't always been in his preferred position, but he has constantly impressed the fans. So this is the best chance for Chelsea's 19-year-old to start in the Left Attacking Midfielder position and prove his worth. Pedro should also start as Chelsea's attacking midfielder, as Oscar struggled against the pressure of Leicester's midfielders.
Attack
Diego Costa is overweight and has been on a terrible form, which should be a big reason for him to be on Chelsea's bench for the time being, as Chelsea has a great striker who could replace him.
Loïc Rémy showed once again that he should start for the Blues, with him being a major threat in the offensive areas, and scoring Chelsea's lone goal against Leicester. His performance against Leicester should guarantee him a spot in the team, and he should definitely start against Sunderland.
(4-2-3-1)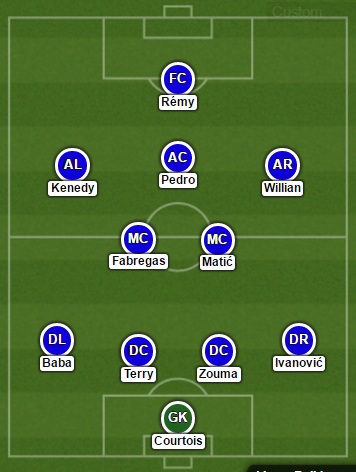 Via – Lineup Builder