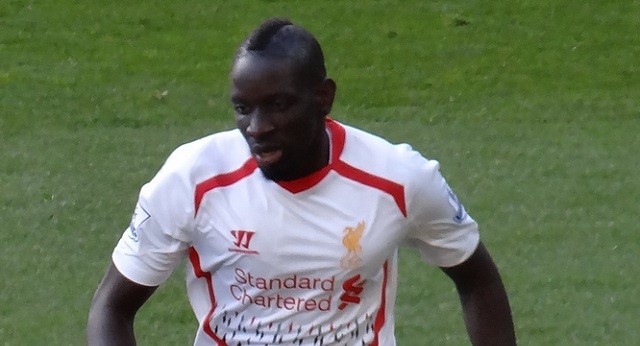 Despite the wave of optimism that Jurgen Klopp brought when he was hired to be the new Liverpool manager, he has not been able to solve the consistency issues that has plagued the club for a number of years. It took a stoppage time goal to get a point in the last match against West Bromwich Albion last weekend and that draw followed a 2-0 defeat at the hands of Newcastle.
The Reds now sit in 9th place in the Premier League and that is nowhere near the standard that the fans expect from the players. They now have a winnable match against newly promoted side Watford in Vicarage Road. Watford has been a surprisingly competent side this season and they have proven that they can hold their own against any opponent.
Goalkeeper
Simon Mignolet has not been great the past few games but he should be motivated to perform much better since the team is considering giving him a new contract. He seems to go through extreme dips and peaks of form and the team needs him to step up if they are to be competitive in the league.
Right-Back
Nathaniel Clyne should have a relatively easy task since he will likely mark one of Almen Abdi or Jurado. Neither of them are the most fearful attackers but as usual, Clyne cannot relax since the team's has not been great the past few weeks.
Center-Backs
This is the type of match that Martin Skrtel excels in since he really steps up his game when he is tasked with marking a dangerous striker such as Odion Ighalo. Mamadou Sakho will hopefully be healthy by the start of the match since Dejan Lovren is now out with an injury. Having him back will be a huge boost to the club since the defense has struggled since the Frenchman's injury.
Left-Back
Alberto Moreno has really stepped up his game ever since Klopp arrived but that has not translated to stats. He launches a lot of crosses into the opponents' box but his accuracy is lacking.
Midfield
Jordan Henderson's return has provided a boost in club morale but that has also coincided with a dip in the team's form. Henderson is still one of the more complete players in the squad however, he should figure out his best role under the new manager. Lucas Leiva fits better in this formation and the squad desperately requires his physicality.
James Milner has not been great in his new team so Emre Can is the better choice in this role. While the team will miss Milner's experience, Can's willingness to think out of the box provides a creative spark.
Right Wing
Adam Lallana's hard work is always a welcome addition to the squad but he really needs to score goals and provide assists if he wants to keep his place in the squad. His finishing is severely lacking at times and he just does not get into dangerous positions throughout a match. If he does not improve at some point, he may be permanently replaced by Roberto Firmino.
Forward
It will be up to Christian Benteke to break through a stingy Watford defense that has only conceded 16 goals this season. He really needs to improve his game since he has only scored 4 goals so far in his time at Anfield. The team is not really figuring out the proper way to provide service but Benteke should also use his size to hold off opponents and create space for himself.
Left Wing
Philippe Coutinho is becoming increasingly predictable and it looks like he is trying to do too much at one time. He should try to make things as simple as possible and try to involve his teammates more so that opponents cannot close him out when he receives the ball.
(4-3-3)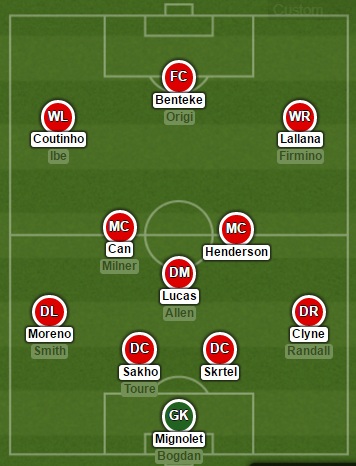 Via – Lineup Builder