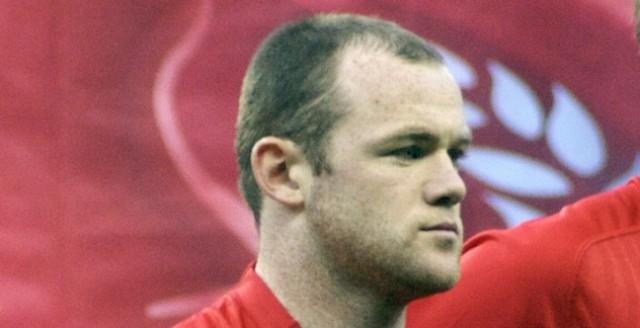 United through an onslaught of injuries are now winless in five straight games. With injuries still an issue, it is expected that Louis Van Gaal will have to feature a lot of youth. It is still questionable whether Smalling, Rooney, and Herrera will be in the lineup; however, each of them participated in "full" training during the week.
Lastly in addition to those injured long-term, (Valencia, Shaw, Rojo) Bastian Schweinsteiger will sit out his second of his three game ban and Van Gaal also confirmed Matteo Darmian and Jesse Lingard will be unavailable.
With the lack of success as of late, I expect Van Gaal to be in favor of experience in his lineup whenever given the opportunity.
Goalie
To no surprise David De Gea will be in net.
Defense
Norwich does not sport the scariest offensive threat, so I would have expected Van Gaal to give Smalling a little more time to settle back in. Yet, Smalling has just been too influential. I see the skipper utilizing Smalling and Blind in the center and pushing Phil Jones to Right-Back. 
Of the two 18 year-old full backs, United fans should be a lot more comfortable with Cameron Borthwick-Jackson. With size and some passing capability he should be settling in with some strong performances at Left-Back.
Midfield
Morgan Schneiderlin has played better when he is given full reign of the middle of the park. He seems more open to let long passes fly and play aggressive in front of the back four like he did at Southampton.
Marouane Fellaini scored United's only goal last week against Bournemouth in their losing effort and was their best player. Fellaini consistently gives United a unique aerial dominance which the Reds severely lack without him. Expect him to be just ahead and to the left of Schneiderlin.
Wayne Rooney probably plays his best football today in a floating 10 role. I expect him to come a bit deeper than usual tomorrow and jump up if given the chance. If injury does hold him, expect Ander Herrera to return in this same role.
Attack
If Van Gaal does choose experience, Ashely Young should get his opportunity after reportedly being upset over being snubbed last weekend. Young and Fellaini go well together so expect Young on the left-wing. 
Juan Mata simply needs to be better because he is the only one in this current lineup who can light a creative spark. He will be coming into the center often off the right-wing position.
Anthony Martial will be looking to break his EPL funk despite a string of solid perfornances. The 20 year-old who plays well beyond his years will be leading the pack Saturday.
(4-3-3)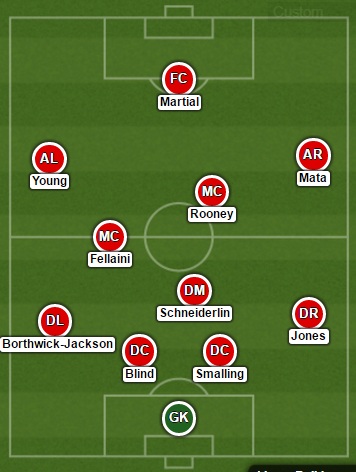 Via – Lineup Builder